'I Survived Bear Grylls': See Contestants Try to Beat the Adventurer at His Own Game (VIDEO)
Bear Grylls is putting everyday individuals to the test with his latest competition series I Survived Bear Grylls which is set to officially debut Thursday, May 18 on TBS.
The series bridges the gap between survival and game show genres and looks like one wild fun time in this exclusive first-look trailer teasing the competition, above. After spending his entire career rescuing himself from intense situations alongside saving others from near death in some of the most remote areas of the world, Bear is flipping the script.
In I Survived Bear Grylls, the survivalist is teaching competitors skills instead of sacrificing himself, turning the tables on America's "armchair adventurers" by creating challenges that will test their smarts, physicality, and their ability to adapt and do whatever it takes to survive. The range of challenges they'll face include, but are not limited to, having to eat and drink some truly gnarly survival food.
Over the course of the single-episode competitions, the pool of contenders will be whittled down until the final contestant standing at the end of each installment can safely and proudly proclaim I Survived Bear Grylls along with claiming a cash prize.
Along the way, a few lucky competitors will have the chance to earn the hard-fought reward of a seat on the larger-than-life MTN DEW-branded throne. Joining Bear for the series is his series co-host, comedian Jordan Conley who makes an appearance in the trailer, above, for the eight stand-alone episode series.
The TBS series is produced by Bunim/Murray Productions, Kreativ Inc., and The Natural Studios with MTN-DEW serving as an integration and promotional partner. Don't miss the fun, check out exciting trailer, above, and stay tuned for I Survived Bear Grylls when it arrives on TBS this spring.
I Survived Bear Grylls, Series Premiere, Thursday, May 18, TBS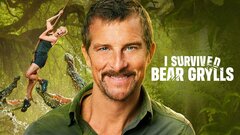 Powered by