The Buzz on 'Yellowjackets' Aftershow: Sophie Nélisse Recaps Episode 2 (VIDEO)
[Warning: The below contains MAJOR spoilers for Yellowjackets Season 2 Episode 2, "Edible Complex."]
If you felt a little nauseous watching the cannibalistic feast, imagine what it was like to shoot it. "The body was so real. It was hard for us to not gag. But we committed and went full out," reveals Sophie Nélisse, who plays brainy Shauna. She breaks down all the wilderness weirdness of episode two on tonight's The Buzz on Yellowjackets. (To find out which cast member actually did lose her lunch, watch the video.)
That Shauna gave permission for the girls to eat her best friend was a surprise to Nélisse when she first read the script. "I never thought Shauna would be the first one or the one giving approval," the actress confesses. "I was expecting her to be more bullied into it. Since Jackie's death, she's had this weight lifted off her shoulders. She's been trying to hold onto Jackie's essence and friendship and trying to keep her alive but part of her wants to put an end to the story and wants Jackie to be gone. I think there's something ceremonial [in] that she's the one making the decision that we'll finally put Jackie behind us."
Making the feeding frenzy scene even trippier was that it was intercut with the girls dressed similarly to goddesses at an imaginary Roman bacchanal. For those shots, Nélisse sat beside her real-life good friend, Courtney Eaton, who plays budding priestess Lottie. "By the end of the scene, we were completely feral. I was grabbing out of Courtney's plate, what she had literally ate and spat out. I was so in character. I think I showered twice that night."
Eaton and Nélisse's close off-camera friendship isn't mirrored in their characters. And it looks like the tension between them could rise. "Shauna is the one that's on the fence the most about the cult, the spiritual situation. She finds Lottie a little creepy. She has this instinct inside of her: don't trust her. The more scary Lottie gets, the more Shauna doesn't trust her and doesn't want to partake in the woo-woo situation," Nélisse says.
As for what's ahead, the actress reveals that Shauna's pregnancy is making her feel isolated and afraid, as none of the other girls really know what she's experiencing. "This is the most alone Shauna has ever been," the actress tells us.
For much more from Nélisse, press that video "play" arrow! The actress shares all the behind-the-scenes details on the episode (like what they were really eating); the emotional final moments acting opposite Ella Purnell who plays Jackie; and Shauna's fears about the looming childbirth. Plus, Nélisse has a creative challenge for all you Yellowjackets fans!
Come back next week when we're joined by Steven Kreuger to discuss episode three and what it's like to play Coach Bob Scott, the lone adult in the cabin. And if you think tonight's episode was the peak of the insanity, think again. Says Nélisse, "It gets more chaotic, crazier, and darker."
Yellowjackets, Sundays, 9/8c, Showtime (and Fridays on On Demand and Streaming)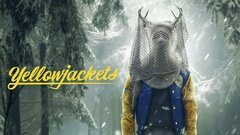 Powered by