The Buzz on 'Yellowjackets' Aftershow: Samantha Hanratty Breaks Down Season 2 Premiere (VIDEO)
[Warning: The below contains MAJOR spoilers for Yellowjackets Season 2 Episode 1, "Friends, Romans, Countrymen."]
Frozen Jackie snacks. Magical healing powers and visions. Sunny songs belted out unironically. We break down some of the weirdest wilderness moments in the Season 2 premiere of Showtime's Yellowjackets in this launch episode of our new weekly aftershow, The Buzz on Yellowjackets. Our guide for this episode? Samantha Hanratty, who plays the teen version of needy sociopath Misty Quigley (played as an adult by Christina Ricci).
Hanratty shares her reaction to that shocking final scene of the season opener, which sees Shauna (Sophie Nélisse) — who'd been conversing with the frozen corpse of her best friend Jackie (Ella Purnell) the entire episode — eat her dead pal's ear, which had fallen off during one of their "chats."
When the actress first read the scene, she was on her way to set in Vancouver with castmate Alexa Barajas, who plays Mari. "We were reading it and it gets to the final part of 'she takes a bite' and it was like 'It's happening!'" Hanratty laughs, admitting she couldn't wait to get to set and take pictures with the Jackie dummy. Will there be more dining? Check out the video above for more of Hanratty's thoughts on the cannibalism storyline.
But will Misty get a seat at the table? She is still semi-ostracized after poisoning (although accidentally) the girls when her magic mushrooms were mixed into the stew, leading to Season 1's debauched "Doomcoming" party where Travis (Kevin Alves) was nearly killed.
"Get over it!" Hanratty says with a laugh. "If I'm being totally honest, if I was poisoned, I probably wouldn't be the most stoked! I also think there's a lot of projection, [they] did this terrible stuff and instead of taking ownership, they're like, 'oh it's because you did that.' That's how Misty's taking it in. It just showed your true selves, and you didn't like what you saw."
So, she's super-stoked in the premiere when musical theater geek/new character Crystal (Nuha Jes Izman) — who bursts from the outhouse singing "That's the Glory of Love," a classic we're pretty sure she learned from the 1988 Beaches soundtrack — suggests "We can harmonize."
"We have had so much fun playing Misty and Crystal and creating this funky and weird friendship. For somebody to choose [Misty], is a huge deal. She's never had that before and it's pretty beautiful," Hanratty says.
The premiere also saw budding priestess Lottie (Courtney Eaton) stepping it up as the group's spiritual leader. Some, like Nat (Sophie Thatcher), scoff at the "Wiccan" but Misty was one of Lottie's early followers. It's the one place she fits in.
"Misty is very much in the group. She inserted herself into the group. We'll see how that plays out," Hanratty says. "I don't see it as Misty believing in it but seeing a place of power and wanting to get close to power so she can hopefully one day manipulate or do whatever she can to be the one who holds the power."
For more from Hanratty, check out the full aftershow above! The actress shares much more behind-the-scenes scoop on the episode. Plus, she fangirls over Ricci playing her adult counterpart, opens up about her fave-ever Misty scene, and reacts to wearing that kitten sweatshirt.
Come back next week when we're joined by Nélisse to discuss Episode 2! It's gonna be gross.
Yellowjackets, Season 2 Premiere, Sunday, March 26, 9/8c, Showtime (Friday, March 24, On Demand and Streaming)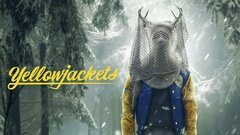 Powered by