'FBIs' Crossover First Look: See Agents Behind the Scenes in Rome & NYC (PHOTOS)
There's always so much to love about crossovers, especially with procedural dramas: an intense case that requires characters from more than one show to solve it, seeing agents traveling to other locations, and, of course, seeing the casts together. TV Insider has an exclusive first look at that last one.
In the photos, you can see cast members from FBI, FBI: Most Wanted, and FBI: International during breaks in filming the upcoming global crossover event, "Imminent Threat." In the one above, taken in New York City, FBI's Katherine Renee Kane (Tiffany Wallace), John Boyd (Stuart Scola), Missy Peregrym (Maggie Bell), and Zeeko Zaki (Omar Adom "OA" Zidan) join Most Wanted's Dylan McDermott (Remy Scott) and Roxy Sternberg (Sheryll Barnes).
And below, in front of the Colosseum in Rome, you can see International's Eva-Jane Willis (Megan "Smitty" Garretson), Carter Redwood (Andre Raines), Luke Kleintank (Scott Forrester), Heida Reed (Jamie Kellett), and Vinessa Vidotto (Cameron Vo) joined by FBI's Shantel VanSanten (Nina Chase) and Jeremy Sisto (Jubal Valentine).
For the crossover, FBI and International are swapping time slots, so the action kicks off with the latter. It all begins when the abduction of an American architect in Rome appears to be connected to a brewing terror threat in New York City, leading to Jubal and Nina joining Forrester and his Fly Team in Italy to find the missing American and shed light on the terrorists' U.S. target (FBI's Alana De La Garza and Boyd also appear in this episode.)
Then, on FBI, to aid Scola in his undercover mission to find the terrorists believed to be behind the imminent attack in New York City, Maggie calls in Remy, whose well-connected informant from a prior case may be key to moving the operation forward. (International's Kleintank, Reed, Redwood, and Vidotto and Most Wanted's Sternberg and Keisha Castle-Hughes guest star.)
It all concludes on FBI: Most Wanted, with the hunt for the fugitive terrorists as they get closer to carrying out a plot to destroy a major New York City landmark and cause devastating civilian casualties. (International's Kleintank and FBI's Peregrym, Zaki, Sisto, De La Garza, Boyd, Kane and VanSanten guest star.)
No wonder this case is going to take everyone!
FBI–FBI: International–FBI: Most Wanted, Crossover, Tuesday, April 4, 8/7c, CBS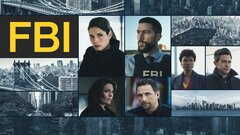 FBI
where to stream