'BEEF': Ali Wong & Steven Yeun Both Got Hives From Stress of Netflix Series
It's not easy playing characters filled with road rage, it turns out. Ali Wong and Steven Yeun said that they experienced physical side effects after portraying such anger in the upcoming Netflix series BEEF.
"Our bodies shut down," Yeun said at a Q&A after Beef's world premiere at South by Southwest on Saturday, March 18.
"Steven and I both broke out in hives after the show. Mine was on my face. His was all over his body because he's weak like that," Wong added, to the laughter of the audience. "It definitely took a toll on us, but we didn't even realize until after the show ended. I mean, I won't even talk about what happened to your elbow."
In the 10-episode dark comedy — premiering on Thursday, April 6 — Yeun plays Danny Cho, a failing contractor with a chip on his shoulder, while Wong plays Amy Lau, a self-made entrepreneur with a picturesque life. The two come head to head in a road rage incident, after which "the increasing stakes of their feud unravel their lives and relationships," Netflix explains.
Beef also stars Joseph Lee (Star Trek: Picard), Young Mazino (Prodigal Son), David Choe (The Choo Show), Patti Yasutake (Star Trek: The Next Generation), and comes from the mind of Dave writer Lee Sung Jin, who also worked with Wong and Yeun on the animated Netflix series Tuca & Bertie. The writer said at the SXSW event that Beef explores the "subjective realities where we project onto people we don't know."
And Wong elaborated on the toll of her and Yeun's roles. "I don't think we knew that was going to happen," she said. "If we knew what we were going to put our bodies and minds through, maybe we wouldn't have said yes, but we're really glad we did."
Added Yeun: "What attracted me is that we got to play with something that we're not asked to on the surface, which is our shadow selves. This whole show is every character's shadow self, and we all have that. So to tap into that — and to get paid for it — is great. And hopefully to make you feel seen, too, because this s—t's very common."
Beef, Series Premiere, Thursday, April 6, Netflix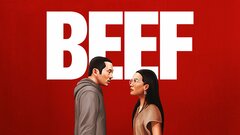 Beef
where to stream
Powered by