'The Bachelorette' Season 20 Will be Charity Lawson – Fans React
The Bachelorette has found its new leading star as The Bachelor Season 27 alum Charity Lawson will be getting another chance to find love.
Lawson became a fan-favorite during her time on The Bachelor with her confidence and compassion for helping others. She was willing to open herself up to finding love by taking risks while also supporting those around her. Her heartbreaking departure from the show came after her hometown date with Zach Shallcross.
The announcement was made on Tuesday's (March 14) The Bachelor: Women Tell All, where host Jesse Palmer surprised Lawson with the news. Palmer told Lawson she was needed for a quick promotional video and began asking her questions, such as "sunrise or sunset" and "camping or glamping."
Finally, he asked "Bachelor in Paradise or The Bachelorette," and she chose the latter, with Palmer telling her that he wanted her as the show's next lead. Lawson immediately broke into tears.
We cannot wait to see Charity Lawson shine as #TheBachelorette 💍✨ pic.twitter.com/785Yy8qbap

— The Bachelorette (@BacheloretteABC) March 15, 2023
"I've waited forever to find the love of my life, and it blows my mind that I could meet my person and be engaged and literally have my happily ever after," Lawson said. "I can't wait to show little girls that look like me that being in a position like this is possible."
A child and family therapist from Columbus, Georgia, Lawson is searching for a life partner who loves dogs, thrifting, and a good tailgate but, most importantly, is honest, empathetic, and values her for who she is. With parents who have been married for over 47 years, Lawson is looking for a lasting love to match their example.
Season 20 is set to air this summer, with episodes airing on ABC, on demand, and on Hulu the day following their premieres.
Check out the fan reaction to the announcement below.
I have to say….THANK GOD because she got really screwed around 😠😠😠😠 i was NOT impressed..she was bullied, lied to ..you name it

You go girl 🙏❤️😎.

Charity Lawson Is Named the New Bachelorette: 'I Could Meet My Person and Be Engaged' https://t.co/BQH1PpiDPZ via @people

— Marion Renee (@LadyFantastic5) March 15, 2023
Yayyy…I'm actually excited about the next Bachelorette!!! #bachelorette #CharityforBachelorette #CharityLawson

— Meredith Lakes (@mernubian) March 15, 2023
Congrats to Charity Lawson on being the next Bachelorette!! Omg!! Can't wait!!

— Camiishaa💜💜 (@Camithesweet16) March 15, 2023
Every time I try to leave something keeps pulling me back me back 🎶🎶🎶#CharityforBachelorette #TheBachelorette https://t.co/hmxTy2npWd

— dr nicole stan account (@deadtingtv) March 15, 2023
My heart is smiling! This goddess is the next bachelorette. 😍❤️ #TheBachelor #thebachelorette #CharityforBachelorette pic.twitter.com/LFClTkTz6N

— Alison Sell (@alisonsell) March 15, 2023
WOOOOHOOO CHARITY IS OUR NEW BACHELORETTE IN THE 20TH SEASON OF THE BACHELORETTE IN 2023!!!!! YYYEEEEEEEAAAAAAAHHHHHH!!!!! #TheBachelor #TheBachelorette #WomenTellAll #CharityforBachelorette 🎉💗🎊❤️👏👩😊🌹💍👍

— Carlo Sifuentes 2023 (@carlosifuentes3) March 15, 2023
The Bachelor, Mondays, 8/7c, ABC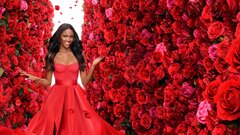 Powered by