PBS to Air Documentary About Civil Rights Activist, Congressman and Recent Trump Foe John Lewis
PBS announced today that it will be debuting a documentary biography of Rep. John Lewis in February as part of the network's Black History Month programming lineup. Lewis is famous for his role in the Civil Rights Movement of the 1950s and '60s, and the film airing on PBS is appropriately titled John Lewis—Get in the Way.
This week, the 76-year-old congressman—a Democrat who who is in his 16th term representing Georgia's 5th congressional district—has been at the forefront of controversy when he said that he does not view President-elect Donald Trump as legitimate, and that he will not attend Trump's inauguration. This prompted tweets from Trump inaccurately maligning Lewis and his district. And just today, Gov. Paul LePage of Maine weighed in with his own criticism of Lewis. Over the past few days, Lewis has been living up to his famous advice for people looking to make change: "Get in the way."
Directed by Kathleen Dowdey, the documentary spans more than 50 years, tracking Lewis' journey to becoming a civil rights hero and congressional leader. Get in the Way features never-before-seen interviews that were shot over 20 years, including with Lewis himself. Others featured in the film are civil rights activists Andrew Young, C.T. Vivian, Juanita Abernathy and Bernard Lafayette, as well as Lewis' congressional colleagues Eleanor Holmes Norton, Nancy Pelosi, Harry Reid, Emmanuel Cleaver and Amory Houghton.
John Lewis—Get in the Way, Feb. 10, 10:30/9:30c, PBS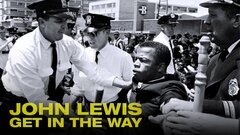 Powered by