Sarah Shahi to Lead 'Judgement' Pilot at ABC — But What About 'Sex/Life'?
Sex/Life star Sarah Shahi is moving back to network TV. The actor will lead the pilot for ABC legal drama Judgement in addition to producing.
Judgment comes from Charmed showrunner Joey Falco and 20th Television, per Deadline. The Black Adam star had reportedly been in talks to lead the pilot since January, with the network and producers having to work through Shahi's Sex/Life commitment.
The Netflix drama has not yet been renewed for Season 3 (Season 2 debuted its six-episode arc on March 2). Shahi will reportedly be able to stay with the series if it is renewed, but she will have to work around her Judgement commitments.
Sex/Life Season 2's finale felt much so like a series ender. Every loose end was tied up, with the leads all getting their happy endings, making for a markedly different end from its first season. But Shahi and co-stars Adam Demos and Margaret Odette previously assured they're game for a third season. "It'll be up to the viewers," Shahi said in our Sex/Life Season 2 finale interview.
While the ABC drama undoubtedly won't be as X-rated as Sex/Life, the story has a love triangle in common with the Netflix series.
Judgement is described by Deadline as a "high-stakes legal soap that redefines the genre by playing out over two timelines." Fifteen years in the future, Shahi's character is being vetted for a Supreme Court seat, making her recount "her experience at a prominent D.C. law firm in 2023, where the only thing more controversial than the cases was her messy love life, caught between two feuding brothers. Now, with a Supreme Court seat on the line, all of her darkest secrets are at risk of coming out, threatening her nomination, her reputation, and her marriage."
In the future timeline, Shahi's character is at the height of her career as a brilliant Appeals Court judge. In the past, she was a "young spitfire of an attorney" who has her share of awkward moments but is "ingenious" when navigating the nuances of U.S. laws.
Falco will write and executive produce Judgement with Melvin Mar, Jake Kasdan, and Jordan Cerf also serving as executive producers. Paul McGuigan directs in addition to executive producing.
Following a recurring arc on The Rookie, this would mark Shahi's return to ABC (and legal dramas). Other TV credits include Reverie, The L Word, Person of Interest, Fairly Legal, and Life.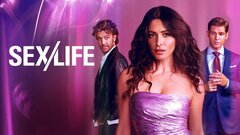 Powered by