'When Calls the Heart' Season 10 Promises 'Good Things Come to Those Who Hope' (PHOTO)
Good things come to those who wait, and Hearties certainly have been doing just that since May 2022. So it's only fitting that the tagline for When Calls the Heart Season 10 plays into that sentiment.
Hallmark Media has released the key art for the upcoming season of its beloved, long-running primetime drama, featuring series star and executive producer Erin Krakow and the tagline "Good things come to those who hope." Check it out in full below.
When Calls the Heart returns on Sunday, July 30, at 9/8c on Hallmark Channel, just over a year since the Season 9 finale aired. Season 10 will consist of 12 episodes. When Hallmark revealed that premiere date in February, it also announced that the series has been renewed for Season 11, also consisting of 12 episodes, with production starting in July.
"When Calls the Heart has continued to be a standout amongst our Hallmark catalogue and we're thrilled that we're able to bring more stories of faith and community to the homes of millions of viewers," Lisa Hamilton Daly, Executive Vice President, Programming said in a statement at the time. "The uplifting nature of the show paired with the love and positivity in the storytelling makes for a very heartwarming television experience and it's only going to get bigger and better in season 11."
Added Krakow, "this season is full of beautiful moments and exciting twists and turns. I can't wait for the Hearties to see what we've created for them! And I'm so thrilled, proud, and grateful to Hallmark that the show has been renewed for Season 11. We have so many more stories to tell. With our amazing cast, crew, and brilliant writers, there will be no shortage of romance and new adventures for the residents of Hope Valley! Having the Hearties continue this journey with us has meant the world and we are thrilled to share what's in store these next two seasons!"
Related
While Hearties may still have months to wait until the new season, Hallmark has other shows to check out in the meantime. The time-traveling drama The Way Home will continue to air its first season through March 26 (and has been renewed for a second). And the same day that season ends, Ride, the network's new rodeo dynasty family drama, debuts.
When Calls the Heart, Season 10 Premiere, Sunday, July 30, 9/8c, Hallmark Channel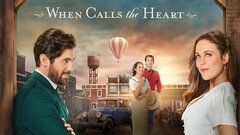 Powered by