'Young & the Restless' Stars Reflect on 50 Years — Plus, Details on Anniversary Storyline (VIDEO)
Few shows have a long-lasting impact, such as CBS's beloved soap The Young and the Restless, which will celebrate its 50th anniversary on Sunday, March 26.
Following five decades of romance and rivalry and ahead of the show's meaningful milestone, the stars of The Young and the Restless are celebrating its legacy as daytime's number one drama. The featurette above sees the stars looking back on the storylines that have wowed audiences since its premiere.
Among the stars featured in the segment are Eric Braeden, Tracey Bregman, Eileen Davidson, Melody Thomas Scott, and many more, who are reflecting on their favorite moments of the past as well as scenes to shoot. Additionally, they're speaking about the weight of tackling bold and relevant social issue stories as well as what it means to reach cross-generational audiences.
Along with this special clip, Paramount+, and CBS.com have started counting down "25 days to 50," where for 25 consecutive days, cast members are profiled and present a favorite scene from their time on the show. The first to kick off the "25 days to 50" was Melody Thomas Scott which can be seen here.
Since her presentation, Eric Braeden, Kate Linder, Lauralee Bell, Beth Maitland, and Jess Walton have also contributed to the format, which continues to roll out. Ahead of the official anniversary date, The Young and the Restless will celebrate its milestone beginning with special episodes starting Thursday, March 23.
The special episodes kick off a storyline of romance, intrigue, and suspense for the residents of Genoa City as they celebrate their town's bicentennial at a glamourous masquerade ball hosted by Victor (Braeden) and Newman (Scott). It will be a night to remember with visits from fan-favorite stars and much more.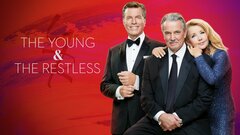 Powered by