Every Will Smith Slap Joke From the 2023 Oscars — Which Was Best?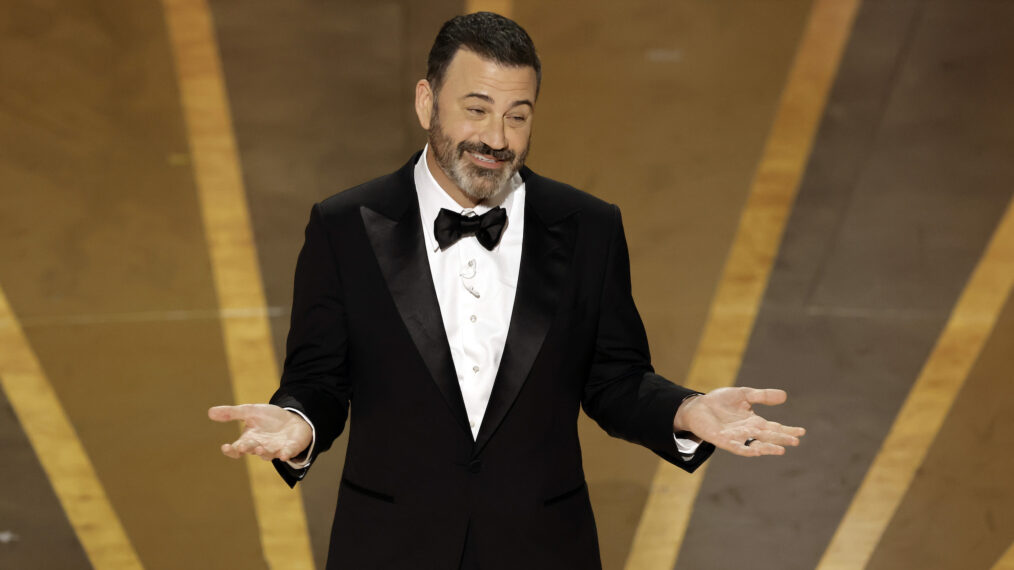 For film's biggest night, Jimmy Kimmel once again served as host, and, of course, all eyes were on his 2023 Oscars opening monologue to see what he would do and address.
After a montage of the making films from the past year (as well as clips from the movies), ending with Kimmel inserted into a scene from Top Gun: Maverick, the host "parachuted" down onto the stage for his opening monologue. After jokes about Nicole Kidman's AMC ad and the nominees, he turned to the topic everyone expected: the slap from the 2022 Oscars. (In case you were living under a rock, that was when presenter Chris Rock joked about Jada Pinkett Smith on stage, which upset her husband, Will Smith, who walked up on stage and slapped the comedian.)
First, noting that there were five Irish actors nominated, Kimmel, who previously hosted in 2017 and 2018, said, "which means the odds of another fight onstage just went way up."
Then, he returned to that incident near the end of his monologue, noting that there are now protocols in place.
"We want you to have fun. We want you to feel safe. And most important, we want me to feel safe. So we have strict policies in place," Kimmel said. "If anyone in this theater commits an act of violence at any point during this show, you will be awarded the Oscar for Best Actor and permitted to give a 19-minute long speech. No but seriously, the Academy has a crisis team in place. If anything unpredictable or violent happens during this ceremony, just do what you did last year: nothing. Sit there and do absolutely nothing. Maybe even give the assailant a hug."
He continued, with the camera moving to some attendees in the audience, "and if any of you get mad at a joke and decide you want to come up here and get jiggy with it, it's not going to be easy. There are a few of my friends you're going to have to get through first. You're going to have to get through the heavyweight champ Adonis Creed before you get to me," (Michael B. Jordan) "You're going to have to do battle with Michelle Yeoh before you get to me. You're going to have to beat the Mandalorian. before you get to me." (Pedro Pascal) "You're going to have to tangle with Spider-Man." (Andrew Garfield shrugs.) "You're going to have to tangle with Fabelman. And then you're going to have to go through my right-hand man, Guillermo, if you want to get up to this stage. The other Guillermo. Not del Toro. Yes, that one. I know he's cute, but make no mistake, you even so much as wave at me, that sweet man will beat the Lydia Tár out of you."
Kimmel insisted, "there will be no nonsense tonight. We have no time for shenanigans. This is a celebration of everyone here."
Then, when it came time to announce Documentary Feature, Kimmel couldn't help but note it "as you may recall, is where we had that little skirmish last year. Hopefully this time it goes off without a hitch. Or at least without Hitch," the host said, referring to Will Smith's 2005 film. Please put your hands together and then keep them to yourself for Oscar winners Riz Ahmed and Ahmir 'Questlove' Thompson."
At almost the two-hour mark, while checking on how everyone was doing (and joking about putting food under seats), Kimmel quipped, "this point in the show kinda makes you miss the slapping a little bit."
The final reference came in Kimmel's sign-off at the end of the night, with "great work, crisis team." He then stepped offstage to a board with Numbers of Oscars Telecasts Without Incident and changed the number to 1.
But what did you think of how Kimmel addressed the slap in his opening monologue? Let us know in the poll below and keep checking in as we keep this post updated with any other references.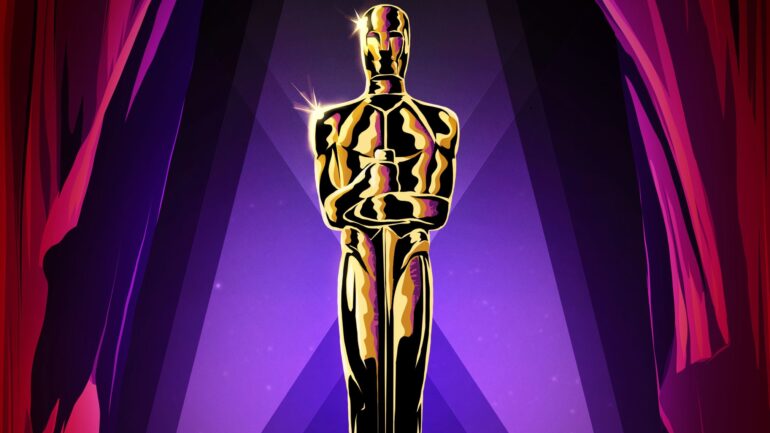 Powered by