'New Girl' Is Leaving Netflix in April, Here's Where You Can Stream It
New Girl is getting a new home.
Beginning April 17, the hugely popular seven-season comedy series will leave Netflix after nearly ten years and will be available on Hulu and Peacock. As part of the shared agreement between Disney and NBCUniversal, all 146 episodes will be available on each's respective streamer.
During its initial broadcast run, New Girl was recognized as an outstanding comedy series, receiving several Emmy and Golden Globe nominations. In addition, for her role as Jess Day, Zooey Deschanel was honored with multiple nominations by the Hollywood Foreign Press Association and Academy of Television Arts & Sciences, ultimately winning a Critics' Choice Television Award for Best Actress in a Comedy Series.
The series features a young ensemble cast that takes a fresh look at friendship. After a bad break-up, Jess Day (Deschanel) needs a new place to live. An online search leads her to a great loft … and three single guys she's never met before. Nick (Jake Johnson), law school dropout turned bartender, is the most grounded … and the most jaded. Schmidt (Max Greenfield) is a hustling young professional who's pretty proud of his own abs. Winston (Lamorne Morris) is an intensely competitive former athlete who doesn't know what to do next.
Rounding out the group is Jess' childhood best friend, Cece (Hannah Simone), a model with a killer deadpan. The fivesome realizes they need each other more than they thought they would and form a charmingly dysfunctional – or strangely functional – family.
New Girl showcased several prominent guest stars over the course of its run, including Megan Fox, Damon Wayans Jr., Justin Long, Josh Gad, Michaela Watkins, Dermot Mulroney, Lizzy Caplan, Jamie Lee Curtis, Rob Reiner, Linda Cardellini, Adam Brody, Brenda Song, and Carla Gugino. Even the late-great Prince guest starred as himself, with Taylor Swift having a cameo.
New Girl, Seasons 1-7, April 17, 2023, Hulu, Peacock.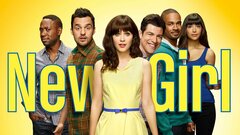 Powered by