How Well Do You Know 'Survivor'? (QUIZ)
CBS' Survivor is back for its 44th season, and these contestants are ready to outwit, outplay and outlast like never before. The premiere introduced a new hidden (or not so hidden) immunity idol, had three medical interventions, and showed the first successful use of the Shot in the Dark. Watching this premiere felt like watching history in the making. And as we look forward to history being made in the rest of this season, we can also look back on some of Survivor's biggest moments from the past.
Who can forget the whirlwind romance between "Boston" Rob Mariano and Amber Brkich? The dynamic duo fought their way to the Final Tribal Council, only to make their tribemates vote between them for a winner. Although everyone was anxiously waiting to see who would be crowned as the Sole Survivor, the real surprise came moments before that, when Mariano got down on one knee and proposed to Brkich.
Or how about when Erik Reichenbach gave up his immunity idol? When Reichenbach won individual immunity, it became clear that one of the women in the all-female alliance (Parvati Shallow, Cirie Fields, Amanda Kimmel, and Natalie Bolton) would be going home. That is, until Bolton claimed she can convince Reichenbach to willingly give her the necklace. She was ultimately successful, sending home Reichenbach and saving her alliance.
There are a million reasons to love the show. That's why fans keep coming back for more each season. But while you might remember the aforementioned moments, the real question is, how well do you really know Survivor?
Put your Survivor knowledge to the test with the quiz below, and let us know how you did in the comments.
Survivor, Wednesday's, 8/7c, CBS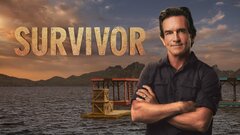 Powered by