'Selective Outrage': Was Chris Rock's Live Netflix Special Actually Funny? (POLL)
Chris Rock's eagerly-awaited standup special Selective Outrage arrived on Saturday (March 4), and with it he finally vented about the slap seen around the world at last year's Academy Awards.
The show debuted on Netflix's first-ever live-streaming event where the comedian touched on society and its selective outrage. This ranged from topics about abortion, people wanting too much attention, his rich children against his poor upbringing, and, of course, Will Smith slapping him at the 2022 Oscars.
On abortion, Rock said that despite being a man, he feels like he has a valid opinion on the subject.
"I want my daughters to live in a world where they have complete control of their bodies."
The comedian then added: "I believe women should have the right to kill babies. I believe you should have the right to kill as many babies as you want. Kill 'em all. I don't give a f*ck. But let's not get it twisted. It is killing a baby."
When debating with himself which trimester people consider to be too late, he suggests mothers should be able to retain their choice until the children turn four.
He also said, despite all the addictions America has, of course, mentioning big pharma opioid abuse also says Americans are too addicted to attention. He then listed the four easiest ways to get attention: show your a**, be infamous, talented, or a victim.
Rock also revealed how he humbled one of his daughters, who thought she could drink on an international school trip and return to school due to her affluence. He teased he doesn't know he played a hand in her not getting accepted back into school and never telling anyone "until they see it on Netflix."
Finally, he touched on "the slap," which everyone from Snoop Dogg to Charlamagne Tha God had given their two cents before he did.
Jada Pinkett Smith addressed the controversy on Red Table Talk, Will addressed it on Instagram, The Daily Show, in a public video, and most recently at another award show, and finally, Rock had his say.
"She hurt him way more than he hurt me," he quipped. "Everybody in the world called him a bitch. I tried to call the motherf—ker, I tried to call that man and give him my condolences, he didn't pick up for me. … Everybody called him a bitch, and who does he hit? Me … That is some bitch-ass s—t."
How did you feel about Selective Outrage? Did you find it funny? Let us know in the post below, and share your thoughts in the comment section.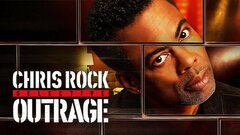 Powered by