'Survivor' 44 Premiere: Jeff Probst Dishes on 'Sophisticated' Cast & Addresses Gabler Edit
Survivor Season 44 is here. The two-hour season premiere airs Wednesday, March 1 at 8/7c on CBS (streaming concurrently on Paramount+), and Jeff Probst is here to answer all of TV Insider's questions about the upcoming season.
As Probst previously revealed to us, there's a Survivor showmance this season, its first since 2018. Probst remained mum on when the sparks would fly, noting, "I won't say anything other than if it lasted, it would make me very happy."
One of the biggest questions on our mind was how, if at all, the show would address fan confusion about Gabler's edit in Season 43. Based on what fans watched all season, no one really expected Gabler to win. But win, he did. Here, the host addresses the Gabler edit and what the creators of Survivor learned from it, as well as dishing on this season's tribal council design and why this cast could be one to remember.
Some viewers expressed confusion over Gabler's win in Season 43, as they didn't think they saw enough of the action and strategy he described in his final pitch throughout the season. Have the editors addressed viewer confusion with this season's edit? If so, how?
It's a very fair criticism and one we took to heart. Our job is to make sure the audience has all the information they need to solve the final mystery "Who will the jury vote for to win the game?" We clearly didn't do that. I will say that even I was surprised at how the final tribal council played out. As final tribal was progressing, I could feel the tide turning away from Cassidy and toward Gabler merely by watching how the jury was responding to their answers. I learned from that situation that the game can literally be won or lost at the final tribal council.
This new cast excited fans from the very first promo, and you said it's one of the most entertaining seasons yet. What is it about this cast that you think will be a series standout? What can you tease about the gameplay of this group of castaways?
The single most important decision we make in any season of Survivor is who we choose to play the game. We use the same process and put the same effort into every single season, but we can never account for the group dynamic that will form once we put them all together. The cast of Survivor 44 just felt electric from the start. There was a sense of humor and unpredictability from the minute they climbed out of their boats and onto the sand. And this is a group of sophisticated Survivor players, as you will see throughout the season. I hope and believe Survivor fans will have a fun time with this group!
Last season, you described the cast as underdogs. What label would you give this one?
I would label this group of players as warriors. You'll see this in the first episode as we the players are reminded that Survivor is very real. Survivor is a very difficult adventure, and it tests you on so many levels. But this group came ready to play at a high level and take whatever we or the environment presented them.
The first promo features imagery of dragons and knights in armor, and the Season 44 logo features a stone archway that looks like part of a castle. What is this hinting at?
The fact that tribal council was designed with dragons and knights and a medieval chess board in the voting booth was mere coincidence!
The promo also shows a player who's seemingly badly injured during a challenge. Why is 44 a tougher season? Is it the challenges, the weather? What makes this season an outlier?
Every season of Survivor is unique, and it's impossible to predict how it will play out, including things like bad weather or random accidents or injuries. That unpredictability is a big part of the game because it forces you to stay alert and roll with the punches. Day one game plans on Survivor are a nice idea in theory but absolutely useless from a strategy point of view. You have to constantly monitor, assess, and adapt. Day to day, moment to moment.
With streaming getting into the reality competition game, what is it that makes Survivor stand out against the pack? Do you feel any pressure to up the ante?
We love that fans can stream Survivor on Paramount+, we don't see that as anything other than a big bonus. In terms of pressure, we feel the same pressure every year and that's to deliver another entertaining season of Survivor. That may not sound like much, but it's everything. It's all we think about all year.
Why do you still love doing this?
That problem solving is a big part of the reason I still enjoy being a part of this show. We want to create a deliciously fun and dangerous game for the players that will test them every single day. I have such admiration for anyone who takes on this game, and I love being a witness to their adventure!
Survivor, Wednesdays, 8/7c, CBS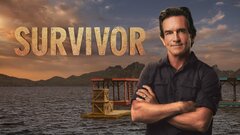 Powered by