'Love Is Blind' Star SK Speaks Out About Cheating Allegations
Sikiru "SK" Alagbada caused quite a stir in the months following his proposal to his Love Is Blind castmate Raven Ross, and now the reality star is setting the record straight.
In a series of TikTok posts last year, Alagbada was accused of cheating on Ross, bringing an end to their relationship. Alagbada initially denied the allegations, but now he's opening up and taking ownership of his actions.
"I'm finally ready to speak out because I feel like I owe it to Raven and to the whole world watching, and also to myself, to take full accountability for my actions," he told People. "This is not an apology tour. It's really about me owning my actions and taking responsibilities and also just taking the things I've learned from this experience, and I'll continue to learn and grow as a person."
He continued, "I do want to deeply express my sincere apology to Raven for the hurt and embarrassment that I caused her. I'm not proud of how I conducted myself. I conducted myself in a way that's making me take a step back and reflect."
Regarding the cheating accusations, Alagbada admitted to having an "inappropriate" text conversation with another woman but denied any physical interaction.
"I was not dating anyone when [Raven and I] decided to go into a committed, exclusive relationship. Despite me being from a polygamous family, which was a very sensitive topic for me to share on the show, it is not the kind of lifestyle that I subscribe to and I never will," he shared.
"All the previous women that came out… those happened earlier in 2022, when, again, I was still a single guy. Raven and I were still talking, but we were not in a completely committed relationship, including the Cabo trip," he added, referencing a vacation he went on with another woman just a week after first meeting Ross.
"There was an incident of me having an inappropriate conversation with this woman sometime in the fall," he explained. "I believe it was around September of [2022], which is completely inappropriate. Didn't end up happening, but… I feel like I shouldn't even have had that kind of conversation with someone."
"I'm not here to really pick and choose what, or go back and forth about who did what. We all make mistakes," he added. "That's something I deeply want to apologize for and take accountability for."
Love Is Blind, Seasons 1-3, Streaming, Netflix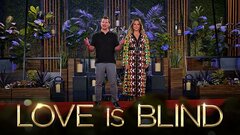 Powered by