'Tough as Nails' Oldest & Youngest Players Face off in Final Team Challenge (VIDEO)
The two-hour Tough as Nails Season 4 finale will feature a challenge between the oldest and youngest competitors of the season. And TV Insider has an exclusive first look at the tight race to the finish in the sneak peek above.
Airing Wednesday, February 22 at 9/8c on CBS, the show will see Savage Crew and Dirty Hands go head-to-head in the final team battle.
Then, the individual finalists race to demo, smash, cut, and stack their way over shipping containers with the first to finish the job crowned the winner of Tough as Nails Season 4. In the sneak peek, the eldest cast member, Ellery Liburd, represents for Dirty Hands and the youngest, Larron Ables, is playing for Savage Crew.
Their challenge starts off with wood chopping and stacking. Being a firefighter, Ellery is overly familiar with an ax. He cuts through the wood with strength and precision.
Larron, a diesel technician, opts for speed, his lack of experience with wood chopping leading to inaccuracy. Ellery takes an early lead, getting to the second phase before Larron has even began stacking his wood. The next task is to connect a large rope to a piece of heavy metal and wind it back in via a giant spool.
After that, they both must split a tire with a grinder tool. Ellery finishes task two and moves on to three by the time Larron gets to his spool, but the tire proves difficult to cut through, giving Larron time to catch up.
Will Ellery maintain his lead and help take Dirty Hands to victory? Find out in tonight's two-hour Tough as Nails Season 4 finale, hosted by Phil Keoghan.
Tough as Nails has been renewed for Season 5. Keoghan serves as host, creator, and executive producer. Louise Keoghan and Terry Castagnola also executive produce.
Tough as Nails, Two-Hour Season 4 Finale, Wednesday, February 22, 9/8c, CBS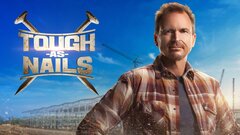 Powered by