Warner Bros. Cancels 'Judge Mathis,' 'The People's Court' After Decades on Air
The gavel will soon come down for the last time on two long-running, syndicated court shows. Warner Bros. has canceled Judge Mathis, which will end after its current 24th season, and The People's Court, which will wrap up at the end of this 26th season.
The cancellations come as local TV stations prioritize cheaper news broadcasts over syndicated programs and as advertisers pay less for spots in daytime syndication, Variety reports.
Judge Mathis and The People's Court are both produced by Warner Bros. Unscripted Television and Telepictures Productions and distributed by Warner Bros. Domestic Television Distribution. The former is also produced by AND Syndication Productions, while the latter comes from Ralph Edwards-Stu Billett Productions.
With Greg Mathis holding court, Judge Mathis premiered in 1999 and won the Daytime Emmy Award for Outstanding Legal/Courtroom Program in 2018. Mathis, a former judge for Michigan's 36th District Court, is the longest-serving Black male host on television and the second longest-serving TV judge, behind Judy Sheindlin, Variety reports.
In an interview with Parade in October 2022, Mathis gave his take on his show's longevity. "I think the main reason we can point to is my ability to relate to all the viewers and their reality, and that in many instances I have the same sensibilities as they do, as a result of having lived their reality," he said. "That's what I think is the uniqueness I bring to the court genre. … Everything that comes before me I have the ability to analyze right alongside the viewers, I think that interests them."
The People's Court, on the other hand, debuted in 1997 as a revival of the 1980s-era syndicated court show of the same name. Lawyer and former New York City mayor Ed Koch served as the show's first judge, followed by Sheindlin in 1999 and current judge Marilyn Milian in 2001. The show has won the Outstanding Legal/Courtroom Program Daytime Emmy four times now, more than any other show. Milian, a former Florida Circuit Court judge, ranks as the first Latina judge to host a nationally syndicated television court show, per The Hollywood Reporter.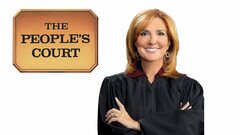 Powered by