Keira Knightley Shares Why 'Boston Strangler' Isn't Your Average True-Crime Story
"I'd always been a bit scared about making things like this. They always seemed to glorify the killer. A man who hunted women, being hunted by two women — that was an interesting take," says Boston Strangler star Keira Knightley.
In this atmospheric film, she plays real-life 1960s reporter Loretta McLaughlin. With colleague Jean Cole (Carrie Coon, The Gilded Age), Loretta pursued the story of a serial murderer, eventually dubbed the Boston Strangler, who viciously claimed 13 victims.
Shot in Boston near where some of the crimes occurred, the story, from writer-director Matt Ruskin (Crown Heights), cracks open the era's rampant sexism, starting with the fact that the pattern in the women's murders was initially invisible to police. The case "was famously badly handled," Knightley notes. "Loretta wanted justice." Once the connection was made, the journalists still faced pressure from police and even their editors to drop the story.
With differing styles, McLaughlin and Cole would sometimes clash. "Loretta was a bull in a china shop," says Knightley. According to Coon, the more experienced Cole knew "you have to let the story come to you, use a little manipulation to get into the rooms you want to get into. Jean shows that to Loretta."
As they dug deeper, the duo received death threats, harassing calls and even silk stockings tied in a bow (the Strangler's signature). "They were criticizing the police, so they didn't know if the harassment was coming from a psychopath or a disgruntled policeman," Coon says. Through it all, the determined women, both married with kids, would come home from the newsroom (or the morgue) to put dinner on the table.
"[One] reason [Loretta] pursued it so doggedly was her oldest child was a girl," Knightley believes, saying the mother would have done "everything in her power" to prevent violence against women.
Boston Strangler, Movie Premiere, Friday, March 17, Hulu

This is an excerpt from TV Insider's inaugural issue. For more in-depth, reported coverage devoted to streaming shows from the publishers of TV Guide Magazine, pick up the March issue of the new monthly publication, currently on newsstands or purchase it online here. You can also subscribe to TV Insider Magazine here now.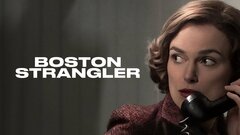 Powered by