Warren Beatty Appears in Bizarre Dick Tracy TCM Special in Apparent Film-Rights Ploy (VIDEO)
If you tuned into TCM on Friday, February 10, you might have been surprised to see Warren Beatty, 85, back in character as Dick Tracy, a comic-strip character he played in the 1990 film of the same name.
Written and directed by Beatty and Chris Merrill, Dick Tracy Special: Tracy Zooms In also starred film critics Leonard Maltin and Ben Mankiewicz as they "interview famous detective Dick Tracy about his life and career" over video chat, according to TCM's synopsis.
As seen on YouTube, Beatty's Tracy provided running commentary for scenes from the 1990 movie during the TCM special. But that commentary wasn't exactly insightful.
"This is good, this good, this is fine, and this is fine, too," Beatty, in character, says around the 12:20 mark of the video above. "This is good, and nice, that's good. That's… no, no, no, no, no, I… no. Well, this is, well… I–I–I don't even know what to say about this."
Plus, TVLine notes, you can see jump cuts in Beatty's portion of the video chat, suggesting that his commentary was edited together (and still sounds that incoherent).
As GameSpot and various other outlets have speculated, it seems Beatty produced and starred in the special to hang onto the film and TV rights to the Dick Tracy character, as he did in 2008 with a TCM special in which Maltin interviewed the detective.
Of course, Friday night's apparent rights ploy didn't fool viewers. "Every 14 years, Warren Beatty makes a weird, Andy Kaufman troll-level 'eff you' video as Dick Tracy and airs it unannounced in the middle of the night so that it can legally be considered a sequel and renew his rights to the character so no one else can make anything," one Twitter user observed on Saturday, February 11.
Some fans, however, commended Beatty's alleged IP-squatting, though. "Me: 'Copyright law in the United States is a nightmare and needs serious reform'" another Twitter user wrote on Friday. "Also me: 'Warren Beatty hoarding the film rights to Dick Tracy by doing low-effort interviews in-character for TCM is spectacularly funny and I hope he keeps it up forever.'"
That same day, someone else tweeted, "Warren Beatty at age 85 is a g–ddamn hero for giving us avant-garde comedy art borne out of some stubborn compulsion of his to hang onto the Dick Tracy film rights. He doesn't ever have to work again, but here he is as Dick Tracy. No one else working on his level."
Per TVLine, Beatty purchased those rights in 1985 — and it seems he might want them for another four decades.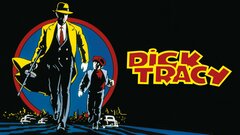 Powered by