'Southern Charm' Star Olivia Flowers' Brother, Conner, Dies at 32
Conner Flowers, the brother of Southern Charm star Olivia Flowers, has died. He was 32.
As reported by Page Six, Conner passed away on Monday, January 30, at his residence in the Isle of Palms outside Charleston, South Carolina. There is no confirmation yet on the manner or cause of death, as the local police department is still "investigating."
Following news of the shocking death, several of Olivia's Southern Charm co-stars took to social media to share their condolences.
"Privacy is number one. Please keep in mind that this is a heartbreaking and grieving time for them," wrote Taylor Ann Green, Olivia's close friend on the Bravo reality show. "Sending all the love and prayers to the family as they continue to heal is the only appropriate thing to do in this moment."
Green's mom, Leslie, also shared a message on Conner's obituary page, writing, "Precious Olivia, Robin and Garry… please know how heartbroken we are for your unspeakable loss. We are holding you in our hearts and prayers for the peace, comfort and strength of God to carry you through. With much love, Leslie and Rick Green (& all of Taylor Ann's family)."
Southern Charm alum Thomas Ravenel wrote, "RIP Conner Flowers 2/9/1990-1/30/2023 Words can't rightfully describe how rare and remarkable you were. You will be terribly missed by those to whom you were so kind and selfless. My sincerest sympathies to your broken-hearted family."
View this post on Instagram
Meanwhile, current Southern Charm star, Leva Bonaparte, shared a heartfelt message on her Instagram Story, where she wrote, "As friends of the Flowers family we have all been asked to stand around them and ask you to please respect their need for privacy so that they may grieve the loss of their loved on."
Conner's obituary described him as "full of life and a fun-loving friend," who had an "entrepreneurial spirit" and "treasured time with his family."
He is survived by his parents Garry and Robin; younger sister, Olivia; and maternal grandparents, Heyward and Barbara.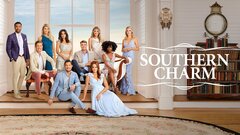 Powered by