Kaitlyn Bristowe Says Chris Harrison Ghosted Her After She Hosted 'The Bachelorette'
Kaitlyn Bristowe's time as co-host of The Bachelorette may have caused a rift with Chris Harrison. The Bachelor Nation franchise star says she reached out repeatedly to Harrison via text after he was ousted and she and Tayshia Adams were announced as co-hosts, but he didn't reply.
Bristowe and Adams hosted The Bachelorette Seasons 17 and 18 in 2021. Their new gig was announced in March of that year, with Season 17 premiering June 7 and Season 18 premiering October 19. When she signed on, she was told she wouldn't be marketed as Harrison's replacement.
"They offered me the position to come in," Bristowe recalled on the January 31 episode of the podcast Not Skinny But Not Fat. "And what the Bachelor franchise said was to mentor Katie [Thurston]. I wouldn't be replacing Chris. Then, all these articles starting coming out saying, 'Tayshia Adams and Kaitlyn Bristowe Replacing Chris Harrison.'"
"I messaged him like 10 times without him responding," Bristowe explained. "And that is so not like him to me. And I know it's not about me. I just wanted him to know that I thought he was irreplaceable, and I didn't want to step on toes."
As she continued to text him without response, she began to realize she was being ghosted by someone she considered a best friend.
"He didn't write back and then I was like, 'OK, well now I'm panicking. Why didn't you write me back?'" she went on. "And then he didn't write me back and I was like, 'I'm on my period. Am I being emotional? But, like, do you hate me?'"
Bristowe said she offered to call him and talk things out, but still no response. Seeing him in person at Wells Adams and Sarah Hyland's wedding in August 2022 only added to the confusion.
"I was like, 'OK, he hates me. We were best fiends and now he hates me,'" she added. "And then I saw him at Wells [Adams] and Sarah [Hyland]'s wedding and I walked up to him and was like, 'I miss you.'"
"Well, I've always been here," to which Kaitlyn replied, "No you haven't! You haven't responded to me in forever!"
The reality star said she tried to remind herself that Harrison had been "going through so much in his life" and tried not to take the cold shoulder personally. But she still was hurt by the loss of their close friendship.
"I bawled my eyes out about it," she admitted. "That friendship just felt like it went down the toilet."
Harrison left the franchise in June 2021 after heavy backlash for defending the racist actions of former contestant Rachael Kirkconnell. He had been hosting the series since 2002. Bristowe said that she reached out to Harrison during the controversy to express her belief that how he acted "was wrong," but that she wanted to support him "while standing up for what I believe in."
The Bachelor, Mondays, 8/7c, ABC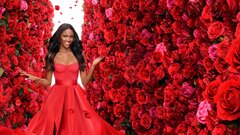 Powered by