Jason Segel & Jessica Williams Introduce the 'Shrinking' Core Trio With Harrison Ford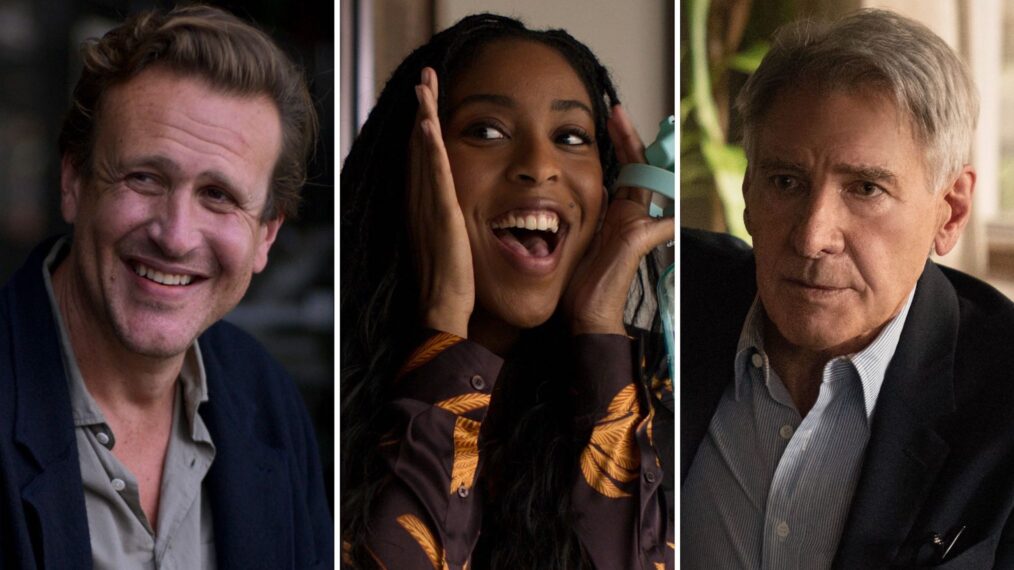 Bill Lawrence comedies always take jobs we know well and humanize the people occupying them. Like Scrubs and Ted Lasso before it, Lawrence's latest comedy Shrinking does the same thing, this time with a small, merry(ish) band of therapists played by a delightfully desperate Jason Segel, a pricelessly deadpan Harrison Ford, and scene-stealer Jessica Williams.
This work family (Ford's Paul would begrudgingly call it that) is the core trio of Shrinking's already strong ensemble. Their dynamic, both in the workplace and out, is the anchor of the Apple TV+ comedy, making for some of its best scenes throughout the debut season. The grief that widowed Jimmy (Segel) has been enduring is finally spilling out, causing him to become a self-described "psychological vigilante."
Determined to interrupt his and his clients' patterns, Jimmy breaks from therapy best practices and tells everyone what he's really thinking instead. Paul, his mentor, lovingly hates it. And Gaby (best friend of Jimmy's late wife) thinks he's being a reckless fool, but not not an entertaining one.
When Jimmy's not around, Gaby pesters the aging and ailed Paul to hydrate, let loose, and take part in the fun more often. Segel and Ford going head-to-head is a treat, but Williams and Ford is a comedic pair we didn't know we needed. Segel and Williams spoke with TV Insider ahead of the Shrinking series premiere (Friday, January 27 with two episodes), giving us the low down on how they formed their dynamic trio on set.
"Those are some of my favorite scenes throughout the whole season," Williams says of Gaby, Jimmy, and Paul's office spats. "We always make sure to come back to those scenes in Shrinking."
Both Williams and Segel say the on-screen rapport between the three clicked just as easily on set. Everyone was excited to play. Williams describes their vibe as "Jimmy and Gaby are siblings in the office vying for the affection of Paul, who's kind of annoyed by them."
"I really, really loved that the first day, we didn't know how the characters were all gonna interact with each other for the first scene where the three of them are in the kitchen," the Love Life star explains. "We did our first scene, and usually we shoot all of the scenes that take place in that room on the same day for convenience's sake. And pretty quickly we were like, 'Oh, this is working. This dynamic really works.'"
"Gaby is inherently pretty annoying to Paul, because she meddles in his business and she's really bright" in her clothing choices, she adds, noting that Paul wears a lot of earth tones to show the stark contrast between them.
Gaby loves trolling Paul, and Williams says it's one of her favorite things to portray.
"I like playing characters that annoy older people," she teases. "That's a really fun dynamic to me. Harrison is a great actor and was always willing to play. It's really fun to play opposite someone, as an actress, because the lines and the comedy kind of writes itself." Keep an eye out for Gaby's evolving friendship with Jimmy's neighbor Liz (the hilariously meddlesome, rock-loving Christa Miller) throughout the season as well.
Segel also feels building the work family's bond was a breeze.
"We have really compatible and complementary, but not the same, approaches, which I think is a recipe for it to be great," he tells us. "We all wanted to kill these scenes, but then each one of us has this slightly different backpack of skills and talents. I think that's what makes the scenes feel alive and interesting each time."
Shrinking marks Segel's return to TV comedies after starring in How I Met Your Mother for nearly a decade. He's a writer and executive producer on Shrinking, along with Ted Lasso's Roy Kent, Brett Goldstein, who co-created the series with Lawrence and pitched it to Segel — Paul is also based on Goldstein's father.
"Bill Lawrence came to me about two years ago and said, 'Hey, I'd like to try to make a show together.' That's a really dreamy call to get, as you can imagine," Segel shares. "We talked about a few shows, but none of them were quite right for something that I would want to do, because I did a TV show for nine years. If I was going to do another one, I really wanted it to be special. Then he and Brett Goldstein pitched me Shrinking, and a therapist going through a nervous breakdown felt like a really fertile area for comedy. I was in."
He's having a blast in this role, and it shows. The Forgetting Sarah Marshall alum says this feels like coming home.
"I love acting more than anything else," he shares. "My whole life, I've felt really at home between 'action' and 'cut.' I'm pretty good at writing, but it's hard and it's this battle of procrastination and you hate what you're writing. But I just love acting so much, so to get to do it with material I loved, and then with Harrison Ford and Jessica Williams and this crazy cast, I felt very, very happy and very lucky."
Shrinking, Series Premiere (Two Episodes), Friday, January 27, Apple TV+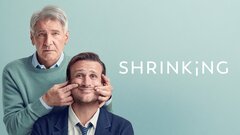 Powered by