'NCIS': Rocky Carroll Shares Scene That Made Him Realize 'I've Been Upgraded as a Director'
Rocky Carroll is once again wearing two director hats — on camera (as Leon Vance) and behind it — for the January 23 episode of NCIS.
For the 21st episode of the CBS procedural he's directed, Carroll has both at least one heart-to-heart and some action scenes when, in "Big Rig," the team is drawn in to help an already-in-progress undercover FBI operation. An old friend of Torres' (Wilmer Valderrama) comes to him, disheveled and bloodied, for guidance amidst the op and then disappears, leading to the team trying to track him down.
Carroll looks ahead to the episode.
Preview the case.
Rocky Carroll: One of our regular agents has to go undercover to try and infiltrate a crime ring that is centered around a trucking company. There is a missing FBI agent and one of our other recurring characters comes on and our NCIS agents risk their lives trying to infiltrate this crime ring. Agent Torres has to go undercover as a long hauler trucker in order to solve this crime.
What excited you as a director about this episode?
I like the storyline. It takes us out of our sort of normal setting — the fact that it was an undercover story, the fact that most of it took place in this bar-restaurant-truck stop area — and we were looking into this whole underworld and one of our regular characters had to go undercover and in disguise. There's a lot more action in this episode. I've directed some episodes where there's not a single shot fired or a single punch thrown. We more than make up for that in this episode.
Yeah, there's quite the fight scene in this one.
I love to do this kind of episode because, as I always say to the writers and the producers, the audiences like to be reminded sometimes just how dangerous this job is. We do such a great job at establishing relationships, the inner office banter back and forth, the characters and how they interact with each other. Every once in a while, you need to remind everyone that these guys risk their lives, that this is a very dangerous job, and every time they go out on a call, there's a chance they might not come back. You can't do that every week because it would just make everybody a little too on pins and needles. But this episode we get reminded just how dangerous this job can be.
What was your favorite scene to direct?
I think [it's] probably when Torres and Sawyer [Zane Holtz] have a heart-to-heart discussion sitting behind the wheel of this big rig. It's just the two of them kind of explaining what got them to where they are right now and you just get a deeper understanding. Because I think a lot of times in procedurals, you have these characters that are sort of like Marvel superheroes — they go out, they chase the bad guys, they bring them to justice — and what I think NCIS has done so well for so many years is to give you that sense of humanity, that this is a real person and not just a superhero doing this job. So that scene to me is the one moment where you get to see who these guys are, aside from the gun and the badge and all the action.
What was the most challenging scene to direct?
Any time there's more than four people in the same scene who have to talk is, to me, the ultimate challenge. It could be a tea party. It doesn't have to be a fight scene, but we certainly did not shoot a tea party. I had, I think, either seven or eight speaking parts in a warehouse, and then all hell breaks loose. And then I have all the agents and the FBI there. So at one point basically it was like trying to orchestrate a wedding. You had so many people in this warehouse, guns drawn, there's a fight scene. There's all sorts of mayhem that ensues. That was the challenge. That's when I said, OK, I think I've been upgraded as a director because when I first started, I didn't have any scenes like this in my episodes. Now they come pretty regularly.
McGee (Sean Murray) spends the episode preparing for a game show. How would Vance do on Smart Alecs?
I think Vance would do pretty good on Smart Alecs. Vance has some hidden talents. He's a closet computer geek. I think he and McGee probably have a lot more in common than — we used to play it up quite a bit early on in the earlier years that Vance could easily hop on the computer and kind of know his way around things. So I think Vance would have fun on Smart Alecs, but I think he'd grow weary of it, and he would probably tank so he could get back to work.
What's coming up for Vance?
We just did an episode not long ago, where Vance and Parker [Gary Cole] end up together in Europe and Germany and there was a love interest. Vance has been a widower for a number of years. So we had a terrific actress who came in to play this character [Marem Hassler as Deputy Lena Paulsen]. Fortunately the character didn't die in the episode, so maybe she'll be coming back into Vance's life, maybe not, I don't know. But I also see a relationship blooming between Vance and Parker that took a very long time for Vance and Gibbs [Mark Harmon] to establish. So I think we're sort of walking down that same path now as these two characters who are the senior members of this NCIS team kind of finding their footing with each other.
NCIS, Mondays, 9/8c, CBS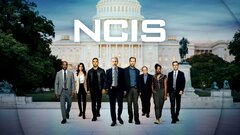 NCIS
where to stream
Powered by