'Chicago P.D.' Director Gave Tracy Spiridakos 'Space' for Those Two Heavy Upton Scenes
[Warning: The below contains MAJOR spoilers for Chicago P.D. Season 10 Episode 12, "I Can Let You Go."]
For Gia-Rayne Harris' TV directorial debut, she was given a Chicago P.D. episode that ended with two major scenes for Detective Hailey Upton (Tracy Spiridakos).
First, Upton found out that her husband, Jay Halstead (Jesse Lee Soffer, who exited earlier this season), asked for an extension on his work overseas. Then, she went to see sex trafficker Sean O'Neal (Jefferson White) in prison after his tip helped Intelligence rescue a kidnapped woman — she's part of a family hiding something and kicking off a new arc — and he hoped to continue working as her informant.
"I'm not coming back. I can't have you in my life, can't do this, it's not right, it's not for me, so I won't do it. I'm done," she told him. But Sean knew what she might not be ready to face: "It's a good speech. You're just giving it to the wrong person."
Harris (whose short Pens and Pencils has been nominated for an NAACP image award and Before You, based on her mother, who retired from law enforcement in 2022, is being developed into a feature film) breaks down the episode.
How did this end up being your TV directorial debut? And what about the episode made it perfect for you for that?
Gia-Rayne Harris: I am beyond grateful to NBC for giving me [an] opportunity. This episode and this show were the perfect start for me in this avenue of TV directing. My mother retired from being a police officer after 33 years, so getting to work on a show that shows them in a light similar to how I know her and her peers was a dream. She was able to visit me on set — having never seen me direct — and it was magic.
This was an interesting one because it is actually a complicated episode. It's ending some storylines; it's creating some new ones. For me, that's a playground because I get to have the tendrils of what existed, but I also get the shot at creating something entirely new. So I was able to cast, [and] I was able to go through that process instead of just having only people that were already there. But yeah, I think it was a huge challenge, and they wanted to throw me in the deep end.
And also because the episode ends with two heavy scenes for Upton. First, there's the phone call where she finds out about Jay's extension and that he requested it. What was your approach to directing that scene in comparison to the earlier scenes of her at home? Because we've been seeing her at home also alone since he left.
I was very hurt; I have to be honest. In the outline and the reading of it, I was like, are we kidding? I was deeply disappointed. So I had to get over my own fandom and my own disappointment in men for a second, and I had to refocus as a director.
My approach honestly with working with her was to give her space. She knows her character; she knows that relationship. We know and love that relationship as fans. But it was really important to give her space to play and also to let the real emotions come up. So in terms of the phone call, all you had to do was make sure the camera was in the right place for her. And in terms of the final scene that you brought up, Upton has not gotten a chance to say her piece. She's not gotten a chance to say exactly how she feels either really to Sean about Sean, but also to Jay. So the idea was to finally give her some closure and to let her do it the way she wanted to.
Speaking of the scene with Sean, there were a few scenes in that room. What was your approach to directing Tracy and Jefferson for those? It's almost like directing a two-person play, right?
You're exactly right. The two of them are heavy hitters in a million ways, but they bring out the best in each other in terms of acting. It's terrifying to see how kind and sweet and beautiful they are as people, and they have this mode where they're ready to go. So directing them in those scenes, my reference for that was Hannibal. The relationship between Hannibal and Clarice has always been one that's creeped me out and gotten me intrigued. So this idea of him technically being trapped but always having the power was something I wanted to play with, but by the end I wanted her to reclaim that power.
Yeah. It kind of felt like Sean wanted that dynamic to be like Hannibal and Clarice.
He was so sickening with it, and he knew what he was doing. He was kind of the puppet master, kind of like he had been doing to her this whole season, but now he could do it from inside [prison]. Yeah, it was a wild thing to play with.
What was your approach to the entire episode as a whole, knowing you'd be ending on those two scenes?
My approach was the same throughout. It was important that I not put too much weight on the scenes. They will be weighty because they are, right? They will be weighty because the words are there and because the actors are good. So I trusted that, and I gave the whole script attention and clarity, and I focused my prep on each element. But I knew what was coming. The other plus though is that the phone call you saw was shot on the first day, so I didn't get to be precious about it or overthink it. And then, in terms of the Upton and Sean scenes you saw, those were all shot on my last day. So thankfully, the schedule makes you work hard. You don't get to kind of go in the arc of the story. You go with what's available to you. So everything got equally weighted.
Also, the Sean and Upton scenes, when they're not in that room, were still in a small space.
Thankfully the production designer of the show is genius, Gregory Van Horn, and I was able to create spaces with him. I talked to him a lot about when I wanted it to feel like a strained intimacy, as Gwen Sigan, the showrunner, put it, and how do you put people in a space that don't want to be together, like smack dab right in front of each other? So he designed those spaces to give me that feeling. You can't ask for better than that.
What was your favorite scene to direct?
I don't know how to answer that. It's like being like, "this child's better than this child." [Laughs] One of the biggest challenges was the stunt work because I had not done a ton of stunt work. So the car crash scene, I had to ask a lot of questions on how the heck do we pull this off and how do we keep everybody safe? I used to be an assistant director and so my heart around safety will never go away, but the stunt team on Chicago P.D. is just a family, and they're incredible, so they were able to give me my answers, and I was able to get eight cameras to make sure we had all the right angles on how to pull this thing off once. I kind of felt this like — electric thing the whole time because I was like, "what might happen? We don't know. We get one chance.
Is there anything specific you'd like to direct more going forward? Because this episode had everything — action scenes, interrogation-like scenes, emotional scenes…
It really did. I'm open to anything with heart, right? Anything that makes sure the heart is there. I love action. I'm just a weirdo for action, so I'd like to do that more. But I always want this emotional thing at the core of it. I'd also love to keep working with kids. They're a blast. The kid that was in this episode was a dream to work with, and he challenged me in different ways because I had to use different tools to work with him. I'd love to keep being challenged. Whatever comes my way, I want to be challenged.
You talked about the tendrils of what's coming up because you introduced that new family. What can you say about what you know about that storyline that informed your approach to that?
They were really careful to protect both the actors and me from knowing too much, and I think that was brilliant because it meant that I got to let us all be present in the story. I will say all three of those actors [Lee Tergesen, Caitlin Mehner, and Graham Harvey] are incredible. Caitlin — who plays the mom — came to just play.
This family, I think, is gonna be a challenge for our whole team, and I'm curious to see how they challenge each member of that team. I think it's gonna extend past the relationship we've now seen with Upton and Voight [Jason Beghe]. We need that shiny thing that our team kind of attaches to, and I'd be really, really surprised if this isn't that.
Chicago P.D., Wednesdays, 10/9c, NBC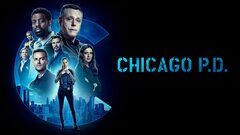 Powered by