Ramón Rodríguez on How the Books Informed His 'Will Trent' & the Relationship With Angie (VIDEO)
Forget that old show business adage that actors should never work with animals or babies. It's working out just fine for Ramón Rodríguez and his four-legged canine costar, Betty (real name Belle), in ABC's new series Will Trent.
"Belle is a pro. It's kind of amazing what she can do. Whenever I have a scene with her I'm like 'I better bring my game,'" says Rodriguez. "I've just been having fun creating other narratives saying that she's an absolute diva, has two trailers and there's no eye contact when she comes on set."
The series has only aired three episodes so far (the fourth airs Tuesday on ABC) so there's plenty of story to come thanks to its source material, Karin Slaughter's 10 novels and two novellas featuring the titular Will Trent.
In fact, Rodriguez went to the books to find out more about playing the special agent. "There's a lot of the book Fractured in the pilot," Rodriguez notes, adding, "And then the book prior to Fractured is Triptych, which I now realize is being put into more of the season stuff."
Related
The actor also opens up about the relationship between Will and Angie (Erika Christensen), who have a long history but, at least for now, Angie is telling Will they should not be together romantically. "They're both searching for family in their own ways," Rodriguez says.
Watch the interview with Rodriguez above.
Will Trent, Tuesdays, 10/9c, ABC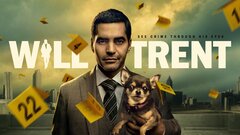 Powered by