'Yellowstone': Wes Bentley Weighs in on Jamie's Worst Decision — What's Your Pick? (POLL)
What's the worst decision that Jamie has ever made on Yellowstone? If you ask the actor who plays him, it's not an easy pick.
"There's so many," Wes Bentley laughed when TV Insider asked him his thoughts. "I'm trying to go back in my head because it feels like every time I think of one, there's one before it that led to that one, right?"
We would argue that it was bringing Beth (Kylie Rogers in flashbacks, Kelly Reilly in present-day) to the clinic for the abortion that led to her being sterilized. That's why she hates him now (and has warned him she'll take his son from him), and the war between them and Jamie and the Dutton family as a whole has led to both considering having the other killed at the end of the first half of Season 5.
"Yeah, you're right," Bentley said, but pointed out, "that's before he was of the age where he maybe fully understood what that all meant. Being a man, you're an ignorant man just by nature. You don't, even if you want to know, always fully understand, right? And you can argue Jamie saw the fear of John being more important."
He then noted that he wasn't excusing Jamie's actions in any way. Rather, Bentley would look to his character's decisions as an adult. "Maybe letting John [Josh Lucas in flashbacks, Kevin Costner in present-day] tell him to go to Harvard, I think, from Jamie's perspective, is the most devastating because he lost himself that day, and that's never gonna be back. That was him. That's Jamie. This other guy is a Dutton," he explained.
That's what Jamie would change if he could, "because I think if he doesn't go down that road, maybe he finds his own independence or whatever, if you get to the core of it, the root of it all," Bentley said.
That being said, according to the actor, "the worst thing [Jamie] did was killing the reporter [Michaela Conlin's Sarah Nguyen]" after he told her too much for a story. And if you weren't expecting that from him, you're not the only one. Bentley wasn't either and admitted, "I got sick doing that. That was sickening. So in action, that was the worst thing. In the root cause, though, it's letting his father tell him who to be."
But what do you think the worst decision Jamie ever made was? Vote in the poll below. As you can see, he's made some pretty bad judgment calls.
Yellowstone, Season 5 Returns, Summer 2023, Paramount Network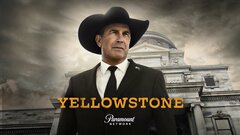 Powered by