Prince Harry's Viral ITV Interview With Tom Bradby to Air on CBS & Paramount+ in U.S.
U.S. viewers will soon be able to watch Prince Harry's viral interview with ITV journalist Tom Bradby. On Saturday, January 14, CBS will air the special in its original U.K. form, while its Paramount+ streaming platform will also debut an extended version of the sitdown following the West Coast broadcast.
The notorious interview with Prince William and ITV's Bradby, his friend of 20 years, focuses on the royal's new memoir Spare, his marriage to Meghan Markle, and the death of his mother, Princess Diana. It also digs into Harry's feelings for his father, King Charles, and beef with his brother, Prince William. He also notes that after watching the interview and reading his book, many will wonder how he could forgive his family.
"People have already said that to me," Prince Harry says of those who wonder how the family estrangement could be mended. "And I said, forgiveness is 100 percent a possibility because I would like to get my father back. I would like to have my brother back. At the moment, I don't recognize them, as much as they probably don't recognize me."
The headline-making international interview, entitled Harry: The Interview, will be a one-hour primetime special, serving as the first telecast of the sitdown in the United States.
The interview will be aired on CBS Saturday, January 14, at 8:00 pm ET. It will also be available on Paramount+ in the U.S. the same day for Premium subscribers. Essential tier subscribers will have on-demand access the day after the episode airs.
Harry: The Interview, Special Premiere, Saturday, January 14, 8/7c, ABC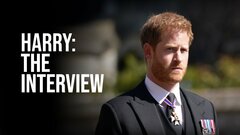 Powered by