'Chicago Fire': How Does That Explosion Affect Kidd & Carver? (RECAP)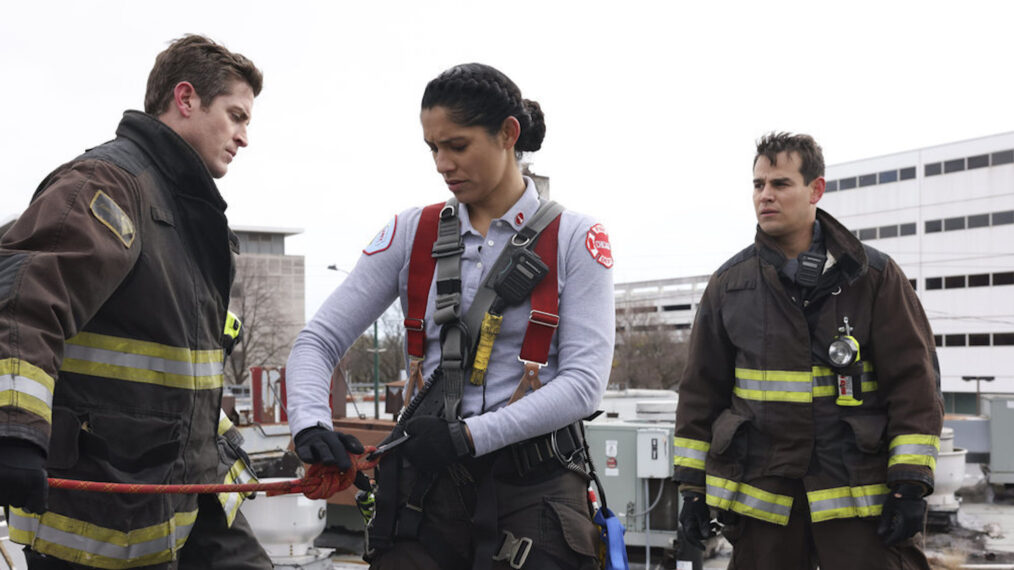 Something for the Pain
Season 11 • Episode 10
[Warning: The below contains MAJOR spoilers for Chicago Fire Season 11 Episode 10 "Something for the Pain."]
For the past few weeks, Chicago Fire fans were left wondering if Kidd (Miranda Rae Mayo) and Carver (Jake Lockett) would survive the explosion after the grenade that had been in Pryma's (Troy Winbush) leg went off.
The winter premiere picks up immediately after that. Severide (Taylor Kinney) calls Squad 3 to do an immediate search of the house, and they find that Kidd has taken the brunt of the blast, with shrapnel in her side. Carver is able to walk out with a bit of help, while Kidd and Pryma are both rushed to the hospital, with police cars clearing the way. Kidd's having trouble breathing, and when Brett (Kara Killmer) asks if she wants "something for the pain" (the episode's title), the firefighter tells her to "give me everything you got."
Of course 51's waiting at the hospital for news, and Carver's the first to walk out of the ED and notably sit away from the others. Cruz (Joe Minoso) checks on him, but he says he's good. Next out is Severide, with good news! Kidd is going to be OK, but the wound is deep and she is heading into surgery to have the shrapnel removed. What's her recovery looking like? According to Severide, "knowing her, she'll want to do the next shift, but realistically, a few weeks."
Back at the firehouse, Boden (Eamonn Walker) checks in with Carver. Back in the day, when something like this happened, they'd give you sleeping pills and a pat on the back, and that was it. "Wisely, they figured out that isn't the best approach," Boden explains. "Just because you were not physically harmed doesn't make it any less traumatic." But Carver insists he's OK and doesn't need time off.
Meanwhile, Kidd wakes up in the hospital, groggy from her pain meds, to find Severide sleeping at her bedside. "I'm not going anywhere," he tells her. And Carver sees them together when he stops by to visit … and then leaves rather than enter the room.
Three weeks later, Kidd's back at work and insists she's ready. When Carver walks in on her putting cream on her scar, she insists it's no big deal and asks how the replacement lieutenant was while she was out; she figured they didn't get along since they're like oil and water. "He's a fine lieutenant, but he's no Stella Kidd," Carver says. Kidd feels like he's messing with her … and Truck 81 has a call before the conversation can continue.
But Carver acts weird during the call, too. When Kidd's about to extract a victim stuck in a vent from the roof, he wants to retie a knot; she checks it and says it's good. Then when it turns out the victim was breaking into the restaurant, not a worker, Carver wants to leave him where he is. Back at 51, Kidd finds him and remarks that whoever was on the call wasn't the Carver she knows. What's going on? "Sorry about hesitating, I'll do better," is all he says.
Later at home, Kidd startles awake with a loud gasp, and Severide assures her it's just a bad dream and she's OK. "I'm so sick of this. Is this ever going to end?" she asks, frustrated, and gets out of bed, walking out of the room.
Severide then checks in with Gallo (Alberto Rosende) and finds out about Carver struggling, then asks Kidd how he seems to be doing. "Carver's tough, he'll be fine," she says. "Tough or not, this stuff is hard to go through solo. Might help to talk to someone who was there, for both of you," Severide points out. She refuses to hold hands and talk about feelings with Carver, and while her husband can agree with the first part of that ("good, because if he touches your hand, he's a dead man"), he doesn't with the second. "The talking part, that can't hurt either of you," he insists.
And so Kidd tells Carver to stop by Molly's while she's working. He's reluctant to open up, but she starts. "I've been having these nightmares lately, pretty much every night, and I thought that they would go away eventually but here we are," she admits. He says he's not having nightmares, "not more than usual," and insists he's "100 percent." And the loss of his overconfidence and bad attitude? He deflects.
"Truth is, I keep trying to put the whole thing behind me, but every day I wake up, I see this scar on my side and it all just comes flooding back," Kidd says. "Scars are good for that," he replies. (He would know.) And with that, Carver reveals what led to his: His older brother pushed him into a bonfire when he was 9, then while he was saving himself, told everyone Carver fell in and he saved him. No one believed Carver's version, "because that's too insane." Everyone wanted him to just put it all behind him and pretend it never happened, hence his reaction to his latest trauma.
"Guess I'm not used to being the one that gets saved, and that's what you did. You got hurt by covering me, and I walked out of that house without a scratch. And it's been hanging over me, probably messing with my head, but I will pull it together, per my lieutenant's orders," he says. And then he's getting back to being the old Carver when, after Kidd suggests she just needs a higher-up to order her to do the same thing, he reminds her he was above her at the academy.
And with that, things seem to be getting back to normal, but we'll be keeping an eye on Kidd to see if she continues to be affected and on Carver to see if maybe now that he's opening up, he can't just put it all behind him.
Chicago Fire, Wednesdays, 9/8c, NBC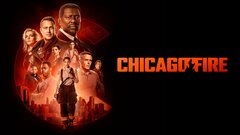 Powered by