'CSI: Vegas': Jay Lee Teases Chris' Influencer & Work Lives Colliding
CSI: Vegas puts the spotlight on Chris Park (Jay Lee), when it turns out that knowledge he has from a side hustle is exactly what's required to solve the case in the January 5 winter premiere.
As a social media influencer himself (@ChrisSolves), the CSI is uniquely qualified to lead the investigation following the brutal murder of someone else with a major online presence. Chris' life online "started back when he was still at the academy and he wanted to shine a spotlight on forensics he found cool, on what CSI life might be like, and then once he became a CSI, what CSI life is," Lee tells TV Insider.
Chris is very popular online himself. "He gained a pretty sizable following back in his field day, amassing over 100,000 followers by just making these videos about forensics," the star continues.
It's "that know-how [that] puts him in a unique position to handle this week's case," he explains. "The case involves a lot of the person's online presence and all that entails, and so [Chris'] wherewithal online is what brings him in and he's able to draw on a lot of the tools from that."
Chris' knowledge of social media is far greater than the rest of the CSIs', and their reactions "vary, but I think social media and the work of being a CSI are inherently diametrically opposed, social media being very public and the cases often being very private," Lee shares. "So I think some of the other CSIs feel that the social media puts us at risk. Allie [Mandeep Dhillon] is probably, being generationally most similar to Chris, the one who understands it the most. But even still, he's the only one out of the team who is an avid social media participant."
Expect some amusing moments as a result.
CSI: Vegas, Winter Premiere, Thursday, January 5, 10/9c, CBS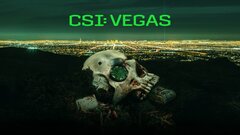 Powered by