'Night Court' Returns: John Larroquette & Melissa Rauch on Why This Revival Works
Laughter erupted on Warner Bros.' Burbank lot one night last August as a scene played out on the very familiar set of a courtroom and judge's chamber. At the center of the mirth was another infinitely recognizable part of the action — now-silver-haired John Larroquette, bringing his iconic character, snarky lawyer Dan Fielding, back to life for the NBC revival of Night Court.
"We knew we wanted John to be a part of [the show], and luckily he was open to it," executive producer Winston Rauch says. "He won four Emmys in a row for Night Court."
What elicits Fielding's (and the series') return? Jovial judge Abby Stone (The Big Bang Theory's Melissa Rauch), who moves to New York City to take over the wacky arraignment court once presided over by her now-deceased father (memorably played on the 1984-92 series by the late Harry Anderson).
"Abby has a belief in the power of seeing the best in people and being a different kind of judge," explains executive producer Dan Rubin. When she needs a defense attorney, she seeks out her father's old friend — and court is in session.
TV Guide Magazine summoned Rauch (also an executive producer) and Larroquette (a producer) for questioning.
What was the key to making this revival work?
Melissa Rauch: First, it needed John Larroquette. I always remember John and Harry playing these gorgeous emotional moments. I was really excited to be able to do that.
John Larroquette: Quite honestly, that it was funny and captured a sense of humor that the audience could identify with and be entertaining enough for them to stick around to watch.
How was it getting back into Dan's shoes after 30 years, John?
Larroquette: Let me really be honest. I am 40 years older than when I began that part, so getting in his shoes was difficult because my feet are swollen. [Rauch laughs] Luckily, I had Melissa to play against, and it fell into place easily.
Rauch: Watching him work, swollen feet or not, was the equivalent of watching the [sitcom version of the] Olympics.
John, how have the last 30 years been for Dan?
Larroquette: He got out of the law system and found somebody he fell in love with and who fell in love with him. He was content and matured. And then his wife passed away and he retreated back into this dark cave. Dan is pulled back into the light by Harry's daughter.
Abby is pretty cheery and positive. Are there more layers we'll see?
Rauch: It was important there be a part of Harry in Abby, and she's coming to night court knowing all his stories. She's also lived through some darkness. [During the season, we'll also meet Abby's mother, Gina, played by Murphy Brown's Faith Ford.]
Will there be romance in Abby's and Dan's lives?
Larroquette: Dan had a great love that he lost. He's also 75 — give the man a break!
This is an abbreviated version of  TV Guide Magazine's Night Court cover story. For more on the revival, as well as the New Amsterdam series finale, Harrison Ford's new Apple TV+ show, and more, pick up the issue on newsstands Thursday, January 12.
Night Court, Series Premiere Tuesday, January 17 (back-to-back episodes), 8/7c, NBC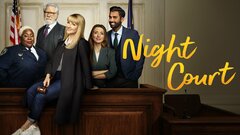 Powered by