'Married at First Sight' Sneak Peek: Season 16 Singles Discuss Perfect Matches (VIDEO)
Married at First Sight is about to embark on its 16th season and in anticipation of the show's return, we have an exclusive sneak peek at the premiere episode where the singles are getting real about their perfect matches.
In the clip, above, the 10 hopefuls jumping into the social experiment this time around converse with their fellow brides and grooms-to-be in the days leading up to their weddings. Kicking off the discussion, Airris asks his fellow male participants, "How particular were you guys when they asked you, 'What's your type?'"
Mackinley is quick to answer, telling his fellow grooms, "Obviously, you want an attraction there and you want her to look good, but, uh, give me, you know, a solid seven, that's funny and I'm compatible with…" he shares, but doesn't get to finish elaborating before Shaquille makes it clear he thinks Mackinley is settling for less than he should get.
"I want a ten out of ten," Shaquille notes, hoping for perfection.
Meanwhile, on the brides' side of things, Nicole takes charge of the conversation, saying, "I need someone who has a personality that can match mine but can also keep me in check. Someone who's not afraid to be like, 'Hey, calm down a little bit.'" In the midst of her sharing, Nicole then says, "Also, can we eat while we talk? Because I am starving and I feel like I can talk for hours."
As if wishing to prove her point, Nicole continues her long-winded explanation, advising her fellow participants in keeping her in check. "You can practice for my husband and tell me when I'm being too much," she says. "I keep joking that I'm gonna give him a safe word. The safe word is pineapple and I'm drinking something with pineapple juice," she adds, pointing to her drink at their shared table.
Nicole's fellow bride Kirsten appears to have some thoughts on the safe word as the clip plays out. See what she has to say about "Pineapple," above, and don't miss the Married at First Sight Season 16 premiere when it airs on Lifetime.
Married at First Sight, Season 16 Premiere, Wednesday, January 4, 8/7c, Lifetime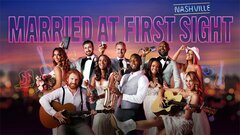 Powered by