'Suits' Returns With a 'Power Vacuum' in the Wake of Jessica's Departure
It's been a long wait for fans since last September's surprising midseason finale of Suits, which saw Pearson Specter Litt's founding partner and queen mother Jessica Pearson (Gina Torres) bow out for a new life in Chicago. Now it's time for the law firm to start rebuilding. "The return episode is very much about the fact that Jessica is gone and what that does to the team," executive producer Aaron Korsh says. "She has created a power vacuum." Titled "She's Gone" (yup, just like the Hall & Oates song) and picking up the morning after Jessica's exit, the hour will bring a new balance of power within the firm, along with possibly some new understandings among perpetual antagonists and remaining name partners Harvey (Gabriel Macht) and Louis (Rick Hoffman). "They don't want to fight with each other, but that doesn't mean that they won't end up with some conflict," says Korsh, hinting that "there's a little bit of a surprise in their attitudes" toward one another in light of this loss.
RELATED: Suits Boss Explains Shocking Exit in Midseason Finale
At the same time, recently released impostor Mike (Patrick J. Adams, above right, with Macht) will be piecing together his own life after serving time for posing as a lawyer. "It's definitely a journey and it takes a while for him to figure out what he's going to do next," Korsh says. One option is to take Harvey up on his offer to work as a consultant at the firm, but with fiancée Rachel (Meghan Markle) set to receive a job offer and face her own fallout for keeping Mike's secret, returning to the scene of the crime may not be in either of their best interests.
And speaking of couples, Korsh promises there will finally be some forward movement in the relationship between Harvey and his better-half legal secretary Donna (Sarah Rafferty)—#Darvey to the shippers closely following this are-they-or-aren't-they pair. "I'll say this," Korsh teases. "We don't ignore that hand-holding moment from the [midseason] finale. There will be some follow-up and follow-through on that."
Suits, Wednesday, Jan. 25, 10/9c, USA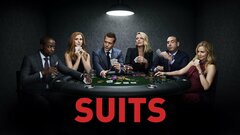 Suits
where to stream
Powered by