Will CBS's 'Hunted' Be Your Next Reality Show Obsession?
Being Jason Bourne is a lot harder than it looks. Just ask the contestants on CBS's new reality competition, Hunted.
Based on a hit U.K. series, the show challenges everyday folks to play fugitive, sending nine teams of two (like Lee Wilson and Hilmar Skagfield, above) on the run from a crew of highly trained investigators—including former FBI, CIA and SWAT agents—hot on their trail. Armed with few resources, the outlaws must navigate through the southeastern U.S. while somehow managing to not leave physical or digital footprints. "It's really exciting," says executive producer Laura Fuest Silva, "because it tests both their physical and mental abilities."
Each duo that evades capture for 28 days straight will win $250,000 and, according to Silva, the biggest obstacle standing between them and the prize money is willpower. "You know what you're supposed to do, but what if you miss your family and make a phone call that gives you away?" Silva notes. "Can you change your patterns on a basic human level? It all comes down to psychology." That, and maybe a few carrier pigeons.
Hunted, Series Premiere Sunday, Jan. 22, 10/9c (approximate; immediately following the NFL AFC Championship Game), CBS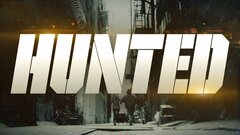 Hunted
where to stream
Powered by