Roush Review: Carrie Fisher and Debbie Reynolds Shine in 'Bright Lights' Documentary
Gotta hand it to Carrie Fisher and Debbie Reynolds: Their tragic curtain call was one for the ages, a scenario not even Hollywood would have dared imagine.
The world was stunned in late December when the show-biz princess-turned-Princess Leia and her movie-musical-icon mother died one day apart. As Todd Fisher, Carrie's brother and Debbie's son, would later tell ABC's 20/20: "It's horrible. It's beautiful. It's magical they're together. It's beyond words. It's beyond understanding."
Thankfully for their legion of fans from multiple generations, the eternal bond between mother and daughter, with lives lived in the spotlight of scandal amid dizzying personal highs and lows, has been captured in intimate, hilarious and ultimately poignant detail in the lovely documentary film Bright Lights: Starring Carrie Fisher and Debbie Reynolds. Directed by Alexis Bloom and actor Fisher Stevens, with Todd Fisher among the producers (and a significant presence), this affectionate portrait was supposed to have premiered later this year on HBO—sometime in the spring, and it would have made a brilliant Mother's Day special—but given the unforeseen circumstances, HBO moved it up to this weekend as a fitting and entertaining tribute to two singular talents.
The familiar history is all there, with home movies illuminating the Hollywood of yore, as ingénue Reynolds marries heartthrob crooner Eddie Fisher, only to be dumped in favor of Elizabeth Taylor—a circumstance that required endless reserves of resilience to endure. (Not for nothing is Reynolds' own memoir titled Unsinkable, a nod to her second-most-famous movie role as The Unsinkable Molly Brown.) As flickers of an adorable little Carrie flash by, we hear the adult Carrie remark: "You knew that I was going to doubt it, so you filmed me being happy."
RELATED: Roush Review: Emerald City a Revisionist Oz, One Day at a Time a Reborn Sitcom
Fisher is disarmingly honest, as ever, about her own turbulent life in the spotlight: Star Wars superstardom followed by bouts of substance abuse and manic-depression. "I knew something was the matter with me. I went too fast, I was too much, and I was embarrassed of it."
As Bright Lights reveals, mother and daughter live as neighbors, always in each other's business, doting and fretting and bantering with barbed but loving ease. "Just do what your mother says. It makes life much easier," coos Debbie. "As if," barks Carrie.
And so it goes, with mom basking in her memories, unhappily forced to sell off parcels of her renowned collection of Hollywood memorabilia, while continuing to perform a nightclub act into her 80s. Carrie, the dutiful caretaker, worries about the physical toll these gigs are taking on her mom, but concedes, "Inside, my mom is the same person, and she does not want to retire. Performing gives her life. It feeds her in a way that family cannot." Wherever Fisher goes, to London to film the next Star Wars installment or to a Star Wars "celebrity lap dance" where she gamely signs autographs ($70 a pop) for fans, her mother is never far from her mind.
Bright Lights is first and foremost a celebration, but also a meditation of sorts on mortality, as Reynolds' condition worsens during the filming. She is particularly fragile in the final act, accepting a 2015 Screen Actors Guild Life Achievement Award but seems dazed and disoriented throughout the ceremony. After a final Las Vegas gig, she declares, "The only way to make it through life is to fight. You don't get there the easy way. If you feel sorry for yourself and you let yourself go down, you will drown."
Like mother, like daughter.
These scrappy survivors are great company, for each other and for their admirers who will treasure this glimpse into their private and professional lives.
Bright Lights: Starring Carrie Fisher and Debbie Reynolds premieres Saturday, Jan. 7, 8/7c, on HBO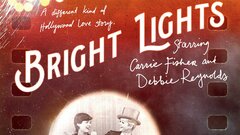 Powered by