Joey Logano Opens Up About 'Race for the Championship' Heading Into NASCAR Cup Series Final
After months of grueling competition, it has come down to four drivers. Joey Logano, Christopher Bell, Ross Chastain, and Chase Elliott are set to face off on Sunday, November 6 with the NASCAR Cup Series championship at stake in Phoenix.
Viewers of Race for the Championship unscripted series on USA Network have become especially invested in the journey to this ultimate destination. Cameras have been following top names in the sport throughout the season and playoffs as they manage life on and off the track.
The road has been anything but smooth. There are the Next-Gen car adjustment, injuries, technical hiccups, and the overall pressure cooker that comes with each race. From seeing 2021 champ Kyle Larson fall out of contention to Bell's stunning comeback, the series has certainly brought a high level of unpredictability.
It has been especially memorable for Logano who welcomed his third child with "Hot Ass Wife" Brittany days before taking home the Busch Light Clash victory in February. Number 22 was the first to qualify in the Champ 4 and turns his attention to another title. Here Logano takes time out to talk about the impact RFTC has ahead of the show's finale leading into the championship race this weekend.
Have you gotten a chance to watch the show as the season has gone on?
Joey Logano: Absolutely. Every one of them. It's fun to watch how other competitors prepare for races. How they talk to their teams and what they do to get ready for battle. Not to mention how to live their life. We're all in different moments in our lives whether we are married with kids or single and ready to mingle. It's fun to see where everyone is in different stages of life along with having the same job. It just shows there is more than one way to be successful. And as a competitor, I want to learn that stuff.
Do you look at the sport through a different lens looking at it from this other side?
Not for me because I've been around it long enough and know everyone fairly well. I think for the fan though that doesn't know us it does. We're together 38 weekends out of the year. I always say it's a traveling circus. We go from track to track together. I think for the fan that is a very interesting thing to see as far as how people live and how normal we all really are.
How many "I have a hot ass wife" t-shirts have you sold on your website?
More than 500 of them. They've gone pretty good so far. I've seen a lot of them going around the racetrack now, which is awesome. I wear mine all the time as well. I didn't see that one coming. That's what my wife's name in my phone has been since we got married, which was almost eight years now. I didn't really think twice about it when it was displayed in my car and everyone in the world saw that. Hey, the truth is the truth. I don't know if you've seen her, but it's the truth.
How was it reliving that conversation between the two of you where you had to decide whether to race at the Clash at the Coliseum and potentially risk missing the birth of your child? I think it really demonstrates the sacrifices made.
I don't want to make it sound like a sacrifice. It's a job we chose and the lifestyle we have and how we put food on the plates. With that, comes a pretty hectic schedule and a tough balance of how to do things. It was probably the toughest decision we had to make together as far as if it was racing or family. Usually, you go racing and then you're home in your family. This is where the two worlds were mixing, which made it pretty tricky what the right thing to do was. I leaned on my wife to make that decision. We decided together I was going racing and hoping the baby stays in there for a few more days. It worked out perfectly and was probably one of the most special weekends there will ever be in my life. So to have it documented on the series is pretty neat.
Concussions have become prevalent in sports and have really come to the forefront this season in NASCAR with names like Alex Bowman and Kurt Busch. How was it for you to have that brought to the forefront on the show?
It's not the storyline we want. I don't want to talk to drivers who are injured. Unfortunately, we are in a situation where it has happened. There is no hiding from that. The docu-series has done a good job documenting as it goes and what drama is in our sport right now. That is a huge piece of what is going on in our sport. Is it scary? Of course. None of us want to have that. It can happen to any one of us at any moment. The good news is knowing there are areas to improve on and that work is being done for next year. Hopefully, we can get a lot of those issues fixed.
Kyle Larson ending up out of contention was a heartbreaking scene. We really got to see that unfold on the show. How would you sum up the last weeks of the season?
It's sports. What you would see this year, in general, has been expect the unexpected. This Next-Gen car has changed everything. How we approach races and the way we run races and who is competitive. More things feel different this year.
What's your mindset going into Phoenix with this level of unpredictability?
I feel like we are in a great spot this year with my team. We are in great shape with our pit crew. Our cars are fast, and we're bringing some speed. We've had two-and-a-half weeks to prepare that our competitors only had three days to prepare for Martinsville. We've used that to our advantage. We're focusing on one race rather than having to focus on three races before that. For this reason, we are ready to go and fired up.
What have you learned about yourself from watching the series?
I learned I'm a horrible kickball player. I tried hard though.
What do you think this show is going to do for NASCAR?
I think this show helps grow the sport. Whether it's a diehard fan that wants to know all the details or a casual fan or nonfan that watches the show for entertainment value. That's what this is meant to do. To me, it hits all three categories of people. That's a big deal. Hopefully, the end of the season makes them all watch what happens on Sunday.
Race for the Championship, Thursdays, 10/9c, USA Network
NASCAR Cup Series Championship Race, November 6, 3/2c, NBC and Peacock, or listen in on MRN and SiriusXM NASCAR Radio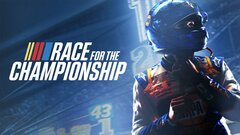 Powered by