'The Resident': Bruce Greenwood & Jane Leeves on Kit and Bell's Fight Against the Governor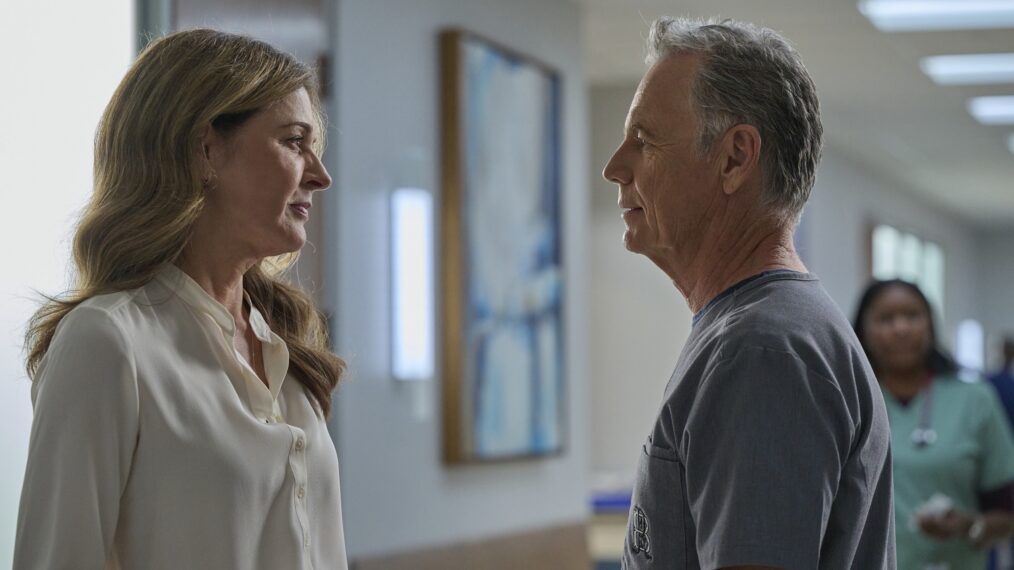 It sounds like a good thing Dr. Kit Voss (Jane Leeves) and Dr. Randolph Bell (Bruce Greenwood) were able to get married when they did on The Resident because they're going to be dealing with quite a lot going forward, so don't expect many more sweet moments like the one that ended Episode 99.
"I'm hoping to have some more time like that, but at the moment, there's a lot going on with the governor and the stress that that's causing Bell and Kit and the stress is not good for Bell, I'll just say that, with his MS diagnosis," Leeves reveals to TV Insider.
Read on for more about what's to come from Leeves and Greenwood.
Kit & Bell vs. the Governor
With the new governor, Mark Betz (Steven Culp), Chastain is facing their budget being slashed, and Kit managed to, on her wedding day and thanks to an appearance on the local news, get the meeting she'd wanted with him. Our money is on Kit, as is Leeves', but she cautions, "she's dealing with someone who is out for a little bit of revenge," following an incident involving her character, Bell, and Betz. "A mighty battle will ensue."
What should have been a private meeting turns out to be anything but, with press present. "The governor is not hearing anything we're saying, and Bell loses his mettle and starts going after the governor," Leeves previews. (Among his accusations: Medicare and Medicaid fraud.) "It all gets out in the press and that's why the governor is coming after us. It gets pretty nasty pretty quickly, and the governor plants a spy in the hospital."
Adds Greenwood, "The governor is sufficiently outraged at Bell, having humiliated him publicly that he decides to really call the dogs. And he reaches way back into the archives of Bell's former existence and it is not gonna be pretty."
Bell has gone from being, in Greenwood's own words, when we first met him, "such a bastard" to a mentor and good man, but the star doesn't think he's going to be able to just forget about his past. Does that mean we could see Bell slip back into the man he used to be in this fight against the governor? "That's the danger, isn't it? If you decide to really get down on the dirt, there's no guarantee that you're gonna come out," Greenwood says.
And it's because of the man he used to be that Bell and Kit look at the governor differently. "The minute Bell sort of gets outraged about somebody else's behavior, it's a little bit of the pot calling the kettle black, right? So although Bell rises up against the governor, particularly because he's been so rough with Kit, I think both these guys are cage-fighters from way back and as decent as Bell has become, I think at a certain point he's going to really take the gloves off," Greenwood teases.
Kit, on the other hand, sees Betz as "just one of those power hungry bad guys," Leeves says. "There's nothing redeeming about him. I actually shot the scene a couple of days ago with Steven Culp and it was in a smokey bar and it was a great chance for Kit to show her strength. It was a sort of showdown between the two of them and it was so much fun to shoot that because it was Kit's tough side coming out."
Stressing Bell Out
This situation with the governor is going to cause stress for Bell, the stars warn, which isn't good when it comes to his MS — and will drive Kit to want to resolve the situation. "When the governor levels his guns at Bell, he takes a piece out of him," according to Greenwood.
The good news: He will keep Kit in the loop about how he's doing. (She was worried he might be keeping something from her when he returned home early after treating a patient who had done just that with his fiancée.) "He may not tell her every instant as it as it happens, just to protect her for a moment, but he's seen the wisdom of speaking his heart and mind to her and I don't think that will ever go away," Greenwood explains.
About Dr. Ian Sullivan…
Ian (Andrew McCarthy) can only hide his addiction for so long, especially since he's now not just popping pills — he's also injecting himself in empty ORs! For now, however, Kit believes his excuse for that positive drug test. "She has no reason to doubt him at this point because he is such a spectacular surgeon. She's like, 'of course, that must be what it is.' I don't think that's sort of heavy on her mind at the moment with him," Leeves explains.
As for any possible confrontation, that's more likely to be between Ian and his daughter, Dr. Cade Sullivan (Kaley Ronayne), since she and Dr. Conrad Hawkins (Matt Czuchry) are the only ones who know about his history.
Greenwood is hoping to see some sort of interaction between Bell and Ian, who, as he sees it, "on some level are fighting very similar battles." Both are dealing with medical problems — Bell's MS, Ian's addiction — and "using drugs to forestall the negative effects of what are whatever it is that they're fighting against," he says.
Chastain Docs Coming Together
Dr. Devon Pravesh (Manish Dayal) "is proving to be a great resource for bringing in these amazing cases and clinical trials," Leeves notes. "Devon brings in Inland Park Tech for a very radical surgery. They build something for us which is quite extraordinary."
On a more personal front, Leeves is hoping to get more scenes featuring Kit and Dr. Billie Sutton (Jessica Lucas), and like us, laments the fact that we didn't see them get drinks a few episodes back. "I think the two of them are cut from the same cloth almost. There's a great understanding and Kit saw greatness in Billie and trusted her. She brought her into the hospital and then she made her chief of surgery," she says.
What we do know is that Bell has key scenes coming up with both Conrad and Nurse Jessica (Jessica Miesel). "Bell takes Conrad into his confidence because Conrad has been helping him with MS. And he does reach out to Conrad and Conrad does what he can," Greenwood previews. As for Jessica, "Bell desperately needs her help at one point and she gets him out of a real serious jam and it's only something you could ask a friend to do."
The Resident, Tuesdays, 8/7c, Fox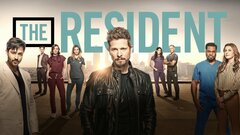 Powered by