What's Worth Watching: 'Star', 'Modern Family', 'It's Always Sunny in Philadelphia' and more for Wednesday, January 4
Star (9/8c, Fox): The camp factor rises on Lee Daniels' latest musical melodrama when Lenny Kravitz and Naomi Campbell, as rock star Roland Crane and his lush of an estranged spouse Rose, descend on Atlanta to check out daughter Alexandra's (Ryan Destiny) nascent girl group. "Atlanta is not a good look, darling," coos Campbell. "I've seen that Housewives show—it's trash." And that's kind compared to her first reaction to Star (Jude Demorest): "You have bad roots, you insolent hussy." Which may be true, but that doesn't stop Star from hustling a big star like Roland to invest in the group's demo. With the exception of Queen Latifah, who actually seems to be developing a character, the acting on Star is as underpowered as the plotting is over the top, but if you've been pining for a vogueing fantasy production number in a beauty parlor, you're in luck.
Modern Family (9/8c, ABC): It's a happy, if farcical, new year when Frasier's Kelsey Grammer turns up at Cam's (Eric Stonestreet) New Year's Day dinner as Keifth, a fancy "concierge" hired by Mitchell (Jesse Tyler Ferguson) to rescue Cam's epic fail of a meal. The complication: Keifth is Cam's ex, a former circus ringleader. Adding to the hubbub: Phil's (Ty Burrell) dad, Frank (Fred Willard), shows up with his new girlfriend, who was once Phil's babysitter. Complications invariably ensue.
It's Always Sunny in Philadelphia (10/9c, FXX): 12 seasons in, this outrageous comedy keeps breaking new ground, and taboos. The hilariously wrong season opener finds the buds watching The Wiz during an electrical storm, and when lightning strikes, they realize when they see a reflection of themselves that (as the episode title states) "The Gang Turns Black." As they grapple with their new reality, learning life lessons amid the racial profiling by neighborhood cops, they keep breaking out spontaneously in R&B song: "When your race has changed, life can be real strange, when you're trying to figure out all the rules." Bonus: a priceless riff on Quantum Leap.
Inside Wednesday TV: Smithsonian Channel's new Crazy Monster series (8/7c) gets up close and personal with nature's creepiest beings, starting with an hour devoted to spiders. … ABC's black-ish (9:30/8:30c) takes on the Internet when the parents begin to worry that some websites aren't safe for their kids and declare the home off limits to the World Wide Web. That won't go over well. … Better the Johnsons should keep the kids from watching ABC's smarmy reinvention of the classic Match Game (10/9c), with Alec Baldwin cheesily reciting racy fill-in-the-blank questions for celebrities, including Jason Alexander, Cheryl Hines, Ice T, Ellie Kemper, Wayne Brady and Caroline Rhea. … FXX's Man Seeking Woman (10:30/9:30c) kicks off a third season with Josh (Jay Baruchel) learning whether he should be careful what he wished for, as he embarks on a long-term relationship with Lucy (Katie Findlay).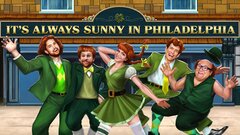 Powered by