Roush Review: Apple's 'Shantaram' a Sprawling Epic of 1980s Bombay
I know few pleasures greater than digging into a fat, sprawling novel. (If only Peak TV gave us more time to read.) Having come of age during the first golden wave of sagas translated into gripping and lavishly produced 1970s miniseries—classics like QB VII, Rich Man, Poor Man, Roots, and the phenomenon of Roots—I can still get excited at the prospect.
Of all the streamers, Apple TV+ is upholding the tradition with the greatest ambition and fidelity: earlier with the magnificent Pachinko, about Koreans displaced to Japan in the last century, and now with the equally exotic and epic Shantaram, set in 1980s Bombay.
Adapting Gregory David Roberts' 936-page tome about an Australian fugitive seeking purpose, redemption and possibly love amid the political and social chaos of urban India, Apple's Shantaram barely scratches the surface in its densely plotted, occasional overripe first season of 12 episodes. (Given where they end the story, on a dark and cliffhanging twist, there had better be a second.)
"The first thing I noticed was the smell," reflects Lin (the effortlessly charismatic Charlie Hunnam, of Sons of Anarchy fame) as he steps off the plane after a successful escape from a brutal Australian prison, bearing physical and psychological scars. He shows his true colors when he adds, "It was the smell of hope."
Lin (an assumed name), you see, is an optimist, despite his traumatic past. He's also an altruist, a flawed man doing good deeds in a strange land to compensate for the black mark on his soul. (I kept being reminded of Jean Valjean from Les Miserables, and not just because he's being relentlessly pursued by a vengeful cop from Down Under.)
He savors his newfound freedom in India, but constantly fears exposure—which becomes an issue when he earns local fame while using his paramedic training to tend to his neglected neighbors in the slum where he lives. There's an inescapable white-savior element to Lin's experience, but he's so burdened by guilt that he never sees himself as the hero of his own story. (Shantaram, a title the series has yet to explain, refers to Lin's reputation as a "man of peace," which is ironic considering how much violence he keeps inadvertently trailing in his wake.)
Lin's wide circle of acquaintances includes the alluring Karla (Antonia Desplat), an enigmatic European dealmaker who teases his affections while introducing him to a group of colorful fellow exiles and outliers, including a journalist who can't help herself from snooping into her new friend's past, with potentially tragic consequences. He also falls under the sway of philosophical gangster Khader Khan (sly Alexander Siddig), a would-be Godfather who weighs "how much sin in the crime," even while stirring a potent stew of political and criminal manipulation into a gang war that puts Lin and his beloved slum dwellers in the crosshairs.
But the relationship that best defines Shantaram is Lin's deep friendship with loyal guide-sidekick Prahbu (charming Shubham Saraf), whose generous grin and unquenchingly upbeat, romantic spirit could melt anyone's heart. He's worthy of his own series.
Shantaram, Series Premiere (three episodes), Friday, Oct 14, Apple TV+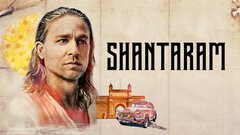 Powered by