'The Librarians' Face a New Ancient Villain in Season 3
When we last saw the daring group of bookish geniuses tasked with protecting secret magical artifacts in TNT's The Librarians, they had defeated Prospero, Shakespeare's Tempest hero, who was a villain in this universe. And Season 3 brings on another baddie.
"The new villain is the spirit of the ancient Egyptian god Apep, the god of chaos," executive producer Dean Devlin explains. "When The Library was formed originally, it was to seal in pure evil forever." Now, Apep is trying to break those seals.
RELATED: The Librarians Season 2 Finale: Prospero's Fate, Unusual Time Travel and the Surprise Return of [Spoiler]
Apep isn't the only one that the titular characters, led by Flynn Carsen and Col. Eve Baird (Noah Wyle and Rebecca Romijn) will do battle with. The new Department of Statistical Anomaly, a U.S. government agency led by Vanessa Williams's (Desperate Housewives) tough Gen. Rockwell, is tracking the Librarians' activity. Rockwell "really believes that [magic] could be an existential threat," says Devlin, who adds that "we're a little bit darker, a little bit spookier this season."
Also this season, Felicia Day (Supernatural) and Sean Astin (The Lord of the Rings trilogy) guest star in a top-secret, "twisted" episode focusing on unrequited love (and evil clowns). And Carsen and Baird continue exploring their complicated feelings for each other. "We've got two very strong people, and part of their relationship is predicated on Flynn changing the nature of how he's been," Devlin says. "It's hard to bend your will for a relationship, even if it's worth it." (Wyle, who starred in three Librarian TV movies before this series began in 2014, returns for seven episodes—the most he's done yet.)
Devlin is confident there are plenty of stories for fans to be invested in. "This season is about the corrupting nature of magic, both for those who use it and those who protect it," he says. Warns Devlin: "We may even lose a character."
The Librarians, Season premiere, Sunday, Nov. 20, 8/7c, TNT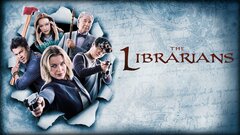 Powered by