Felicia Day Guest Stars on 'The Librarians', Reunites with Sean Astin
TNT's The Librarians has been kicking it into high-gear, saving lives and preserving magical artifacts throughout Season 3—all while keeping the season-long threat of Pure Evil at bay.
In this Sunday's (December 18) episode, "And the Tears of a Clown," they will come to the rescue of too-kind waitress Charlotte, played by Felicia Day (Supernatural). Charlotte is lured into a trap when a traveling carnival's magician Kirby (played by The Lord of the Rings' Sean Astin) is granted the power of real magic.
TV Insider spoke to Day about shooting the episode, her favorite Librarian and more.
What drew you to this show? Had you seen it before?
I did watch the show. It's definitely a show that fits right up my alley. It has really great characters. It's whimsical—which is rare on the air nowadays; everything's so heavy. So, I was really thrilled I'd been able to join the cast for an episode.
How would you describe your character, Charlotte?
She's a waitress and she has a little bit of a bad life. We find out that there's a hidden or secret past with Sean Astin's character who is this magician at the circus. It's a really colorful episode with lots of awesome set pieces and props. It was really, really fun to shoot.
Did you shoot it at an actual carnival?
Yeah! There was some stage work, but it's actually a carnival in Portland. It was this very, very old carnival site. Everything was done on-site, which makes it feel a little bit realer too. I had never been to Portland before, which was very weird because I always thought it'd be a city that I'd love, and I did. The food up there is just out of this world.
And she's brought to the carnival by winning a contest with a golden ticket?
Yeah, it's the way that she gets to the carnival because she's a working woman and she can't really drop everything to go. That golden ticket plays into the episode in a really fun way.
How was it working alongside Astin?
It's fantastic. I worked together with him on Con Man, which is Alan Tudyk's Internet series. So we've worked together and known each other over the years at conventions and other sort of Comic-Con events. Being able to work with him was just so great. He is one of the most enthusiastic actors I've ever worked with. He makes it seem like play. Sometimes you forget that the best kind of acting is play, and he really roused my spirit in that way and helped me re-embrace the love of performance.
RELATED: The Librarians Face a New Ancient Villain in Season 3
What can you say about Kirby's past with Charlotte?
I don't want to say too much, but it's definitely long enough ago and it's certainly more vivid in his mind than it is in Charlotte's mind. The past between them really factors into it in a major way. There's stronger feelings perhaps on one side than the other. Naturally, you would use clowns to be able to open the door to an old relationship like that.
Of course! And it looks like there are a lot of clowns in this episode.
I've never been a real fan of clowns myself. My mom had "It," the Stephen King book, around my house when I was a child and I think I might have been traumatized by that cover. This is certainly evocative of that. There are also whimsical clowns and very attractive clowns because some of the main cast gets dressed up and the makeup isn't scary on their end at least.
Which Librarian would you, Felicia Day, get along with best?
I love Rebecca's [Romijn, who plays Eve Baird] character because she's just no-nonsense and I enjoy people like that. I'm not as assertive of a person as I should be, so I always like to have a sidekick who will yell at the maître d' if we've been waiting too long for our table. Not yell, but be very firm. I would definitely geek out with the other Librarians, but I love the fact that she is the muscle. It's nice to see a woman be the muscle in a show and she does it so well.
Is there anything else you can tease about what we'll see?
There's a light whimsy to the show, but there are some really nice deep scenes to the show, as well as some generally frightening ones. There's some props towards the end of the episode, where I didn't want to sit by myself with them. It's one of those episodes that will have some ups and downs and a lot of variety of colors that I think people will really enjoy.
The Librarians, Sundays, 8/7c, TNT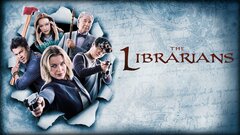 Powered by