'Love Island USA' Winners on Fan Support & Being Each Other's 'Comfort Zone' in the Villa
[Warning: The following contains MAJOR spoilers for the Love Island USA season finale.]
After a summer of love, drama, twists, and turns, Peacock's inaugural season of Love Island USA has its first winners. Hosted by Modern Family alum Sarah Hyland (who recently celebrated her own nuptials to Bachelor in Paradise alum Wells Adams), the season came to a close on Sunday, August 28, and all the couples have officially left the Villa.
In the end, fan votes determined Zeta Morrison and Timmy Pandolfi to be the Love Island USA winners. The couple — now the happy recipients of the $100,000 grand prize — met during week one in the Californian villa and enjoyed a relatively drama-free time during filming. Of course, reality dating shows are famously far from calm, but here, the victorious couple tells TV Insider what it was like to have someone to come home to all season long.
Plus, they address comments from fans who believe Isaiah Campbell and Sydney Paight should have been the winners.
Congratulations on your win! Take us to that final moment right before you found out you were the winners. What thoughts were running through your minds?
Timmy Pandolfi: I was like, "Hey, it could go either way. Isaiah and Sydney are a very electric couple." They had their own storyline much different than me and Zeta's. I did feel like it was just gonna be preference at that point, but I knew we were in a good spot. I was just hoping for the best. We'll take a win!
Zeta Morrison: Like we said, just Sydney and Isaiah are very passionate with each other, you know. They had just become boyfriend and girlfriend, and they said, "I love you." So there was really, really no telling. It didn't feel like a sure thing at all. But yeah, just hoping for the best. And it happened.
It sounds like you had some doubts that you could pull through and become the winners. But did your gut tell you that you were going to win?
Timmy: Maybe if we went to the gut check, yeah. [Both laugh]
When we got Hottest Couple kind of midway through the whole process, I knew what we were doing was being received well. So I kind of had that to go off of. I guess you could say, yeah, in my gut, I was like, "Hey, we have a really good shot for sure."
Zeta: Yeah. I think we both just felt like it's like your mom telling you you've done really well today and just holding onto that for the next three months of your life. It just can really make a stamp on you. Getting Hottest Couple, we didn't think we were gonna get it, like our Islanders hadn't voted for us. We just really weren't thinking it was us, so when that came up, we were like, "Woah, wow." From then on, I think it really gave us some confidence that America was rooting for us.
Timmy: We didn't switch up; it was the same. We continued to do the same thing we did to get Hottest Couple. I did feel like we had a nice flow/rhythm.
Clearly, what you were doing was entertaining the fans. And fans really do love you two! One tweeted, "Proof that love doesn't have to be hard — it can be gentle, patient, mutually respectful, and beautiful." How do you feel about tweets like that/the fan response to your relationship in general?
Zeta: That's just so special, what you've just read. I read something from a Sydney and Isaiah fan that was like, "Timmy and Z didn't go through anything. They just went through a little bit, like you need more of da, da, da," so it is nice to see another perspective. Each relationship is different, and they work differently.
There's still just as much passion between Sydney and Isaiah as there is between Timmy and I. We're just different people. Do you know? That is such a beautiful, beautiful tweet. Thank you for sharing that.
proof that love doesn't have to be hard—it can be gentle, patient, mutually respectful, and beautiful
OUR WINNERS!!! CONGRATULATIONS ZETA AND TIMMY
#loveislandusa pic.twitter.com/pe7zCopZjq

— ًً (@ethereaIpixie) August 29, 2022
It is nice. Love being simple doesn't mean there's less of a connection there. I think people sometimes think that intensity's important and that you have to go through hard things together. No, you don't! Things can be happy. What if it's just good?
Zeta: Mhmmm.
Timmy: Life will throw you enough things eventually.
Zeta: Don't go searching for [hard times]. If you are happy and things are good, ride the wave, because life will come at you, you can't escape it.
With such a chaotic world that we live in, it's nice to come back to something that's peaceful. That's valuable.
Zeta: Big facts, big facts.
What was the most shocking twist for you, either individually or as a couple?
Timmy: Bringing in a brother and a sister was pretty wild.
Zeta: Yeah!
Timmy: The dynamic was interesting. They came in and had certain times where they were just talking and we're like, "What are they plotting?" The brother-sister connection, what can you tell the brother that, you know, he's not gonna run back to the sister? They're both really good people obviously, but initially they were kind of a little standoffish. There was a lot of skepticism in there, you know, because movements and behavior. So that was pretty shocking to me.
Zeta: I'll have the piggy back off of that. That was very shocking for me several times. [Laughs] Yeah, that situation was shocking, I will say. However, they came in and did what bombshells needed to do! They really shook up the Villa, both Chazz and Bria [Bryant] individually shook up the Villa. They were much needed characters.
Other than winning, what would you say was the biggest highlight?
Timmy: For me, it's just that first week, man. That first week, first stepping forward for me, me choosing her, and then our dynamic from the jump. Before we even had a sit-down conversation where we were looking at each other, I was already whispering in her ear, just like saying whatever.
Zeta: [Laughs] Anything, yeah.
Timmy: Then we were working well, and then when I look back, I'm just like, "Wow." That first step forward (pun intended) creates the whole dynamic, and it could have gone so many different ways. And the fact that the first week, for me, looked like that? And when the two girls, Val and Maddie, came, and that was the first night I was there and I could have gone on that date, but I just didn't feel it, because of what I already felt with Zeta — I would say that's my highlight. It just set the tone for the whole experience.
Zeta: That's so very true. The first day with Timmy was just like, "Wow, is this really happening? Like, have I come on Love Island and immediately found someone?" I'm like, "Holy sh*t, this could be my person on day dock." That was just really mad. And to just lay down in bed and have so much pillow talk as if I'd been with this boy for three years? It was just surreal.
Timmy: Felt like we cheated something.
Zeta: Yeah, like we were doing something wrong.
You won the jackpot on day one. And in a chaotic environment like reality dating shows, to have that solid thing to come back to must have been nice.
Zeta: Oh yeah.
Zeta: He was just my comfort zone in the Villa. When Casa Amore happened, I was just distraught. I'm used to being by myself. I have no problem, like I'm not a codependent person at all. But when someone really is your happiness in a place and then they're not there, it's like, "Ugh, no!"
Do you have any exciting plans for the prize money? Maybe like luxurious vacation?
Timmy: I haven't touched it yet, haven't received it. [Laughs] I'll definitely want to go to London. I got the invite, so that's on the list for sure. We spoke about places that we could travel to, and we'll figure that out. But it's probably gonna be the normalcy first, just doing some dates in California, going to movies, dinner — you know, just explore it a bit together.
What's next for you?
Timmy: It's still very early in the game. We're headed back to our respective homes. Today's the day we're really gonna settle in and get back to our normal lives.
Love Island USA, Streaming Now, Peacock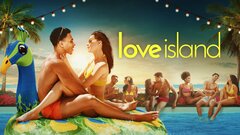 Powered by