Terry Crews Saves Christmas for Five Families in Need of Holiday Cheer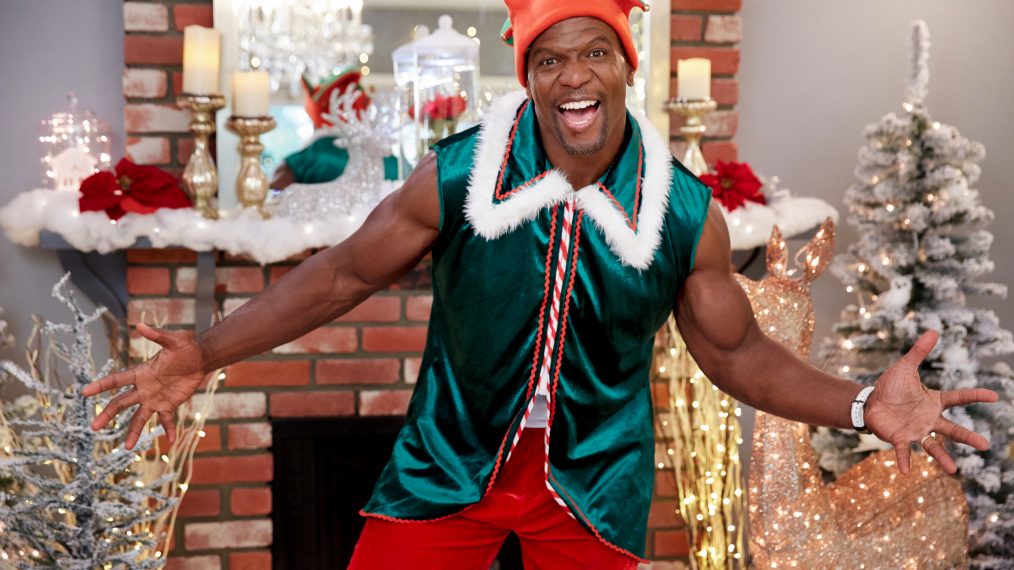 Terry Crews knows what you want for Christmas – and it's not stale fruitcake.
The Brooklyn Nine-Nine star aims to spread holiday cheer in Terry Crews Saves Christmas, a week-long special on The CW. Crews is joined by designer Vanessa Deleon and chef Dean Sheremet to help revamp the holiday shindigs of five families, creating get-togethers that would make Kris Kringle jealous.
TV Insider spoke to Crews about why this holiday matters to him, his seasonal traditions and which Christmas favorites he prefers.
So does Christmas need saving, or just the families you're helping?
Well, let's just say, the families are having issues. People don't realize that Christmas is all pressure. You've got to do everything right, get everyone what they want and make everyone's dreams come true. It's just too much, and 90% of the time, you can't do it.
We're making it easier, and we let everybody know – the family thing, you've got that, but Christmas can be done way better than you think, for less money and for not as much effort.
How did you find the families, and how did they react when you came knocking at their door?
We wanted to get a wide cross-section, and I was shooting Brooklyn Nine-Nine at the same time, so we shot three different episodes in parts of the Southern California area – one in Claremont, one in Santa Clarita and one in Burbank. Then we had a little bit of time during my off-week to go to Chicago and visit two families in that area.
They had no idea I was going to come ambush their house, which was odd because you get this reaction like, 'Oh my god!' and then there's this other reaction like, 'Well I can't tell him to go…' [laughs]. But I come in really happy and fun to let everybody know that this is not a pressured thing; I'm here to relieve the pressure.
RELATED: Your Guide to Holiday Specials on TV
How was it working with Vanessa and Dean?
They were absolutely amazing. The hacks they knew, I stole.
If Christmas has a spirit animal, it's me. I came in there as the energy and the spirit, but they came in there with the knowledge and know-how. I was constantly like, 'Oh my god, you can do that?!'
Vanessa came up with this idea for an upside down Christmas tree that blew me away. It was absolutely phenomenal.
You were definitely bringing the fun, especially with those costumes and the tricked-out car!
I call it the "Sleighmobile," and there's two ways to do it, like "Santa's sleigh" or s-l-a-y, because it was so dope. We had it decorated up and we would sing carols in it.
What's your favorite thing about the Christmas season?
That you're forced to take a break. I love working, so as long as business is open, I'm open. But with the holiday season, everyone takes off and I'm forced to chill. Sitting back with the family, looking at the fire, putting together toys and playing games together it's like, I didn't know I needed this.
Do you have any Crews family traditions?
My wife's birthday is Christmas Eve. She really feels like she gets dogged out because people will get her Christmas gifts, but not a birthday gift. She didn't get the right deal, and I always have to go big.
Every Christmas Eve, we go out and have a steak dinner and everyone opens one present in honor of her birthday. We know that Christmas Eve is about her birthday. We really celebrate that. Then, on Christmas it's a whole other thing. That's our tradition.
What's really, really special about this [Terry Crews Saves Christmas] special is, last year I lost my mom two days before Thanksgiving. She's been a very, very big part of our holidays and our Christmases. She loved the season – cutting ornaments out of construction paper and playing music.
Last year was a really difficult Christmas for me to get through. Doing this show has kind of filled a hole in my heart because going around with all of these families and getting to do Christmas again and again with their parents and their grandparents – it did a lot of healing for me.
Why should people tune into this special?
It's fun. It's really something you've never seen before. It's the strongest, most muscular, most powerful holiday special – ever.
Christmas This or That with Terry Crews
Tinsel or Garland?
Garland. I love wrapping the tree and having the smooth lines. The tinsel tends to become a little haphazard, and it looks like junk on the tree; I'm just being real.
Egg nog or hot cider?
Hot cider. I've never been a nog guy. I always think about the intolerance thing that might happen a little bit later [laughs] so hot cider has always been the thing for me. It goes well with sweets.
Stocking or presents?
Presents all the way! The stocking is the appetizer, but the presents? That's the meat.
Snowball fights or building a snowman?
Snowball fights. I love putting my kids in their place. They get a little arrogant and entitled around Christmas, and a nice snowball fight is a good way to get them back.
Frank Sinatra or Michael Bublé?
I've got to go Frank Sinatra. I love Bublé, but you've got to go with the original. I'm a throwback guy.
Elf or It's a Wonderful Life? Or a third option – there's so many Christmas movies!
This is not for the kids, but I've got to go with Friday After Next. It's a Christmas movie I did with Ice Cube. It's my quintessential Christmas film – not for the kids though!
Terry Crews Saves Christmas, Tuesday, December 20 – Friday, December 23, 8/7c, The CW