Your Guide to Holiday Classics & Specials on TV
You'd better watch out… and you'd better keep your remote handy! There's a lot of holiday programming during the 2016 season you won't want to miss, so get ready to set your DVRs.
RELATED: Cameron Mathison Talks Clash of the Grandmas and His Favorite Holiday Cookies
Here's your guide to all the must-see classics and specials from Thanksgiving through New Years Eve with all your favorites like Frosty, Rudolph and even Baby New Year!
Wednesday, November 23
Macy's 90th Thanksgiving Day Parade Special (NBC, 8/7c)
A Charlie Brown Thanksgiving (ABC, 8/7c)
Thursday, November 24 (Thanksgiving Day)
Macy's Thanksgiving Day Parade (NBC, 9am/8c)
Thanksgiving Day Parade (CBS, 9am/8c)
Friday, November 25
Grandma Got Run Over by a Reindeer (The CW, 8/7c)
How the Grinch Stole Christmas (NBC, 8/7c)
Santa Claus is Comin' to Town (ABC, 8/7c)
Frosty the Snowman (CBS, 8/7c)
Frosty Returns (CBS, 8:30/7:30c)
Saturday, November 26
The Story of Santa Claus (CBS, 9/8c)
Eloise at Christmastime (Discovery Family Channel, 9/8c)
Sunday, November 27
Ice Age: A Mammoth Christmas (Fox, 7/6c)
Tuesday, November 29
Rudolph the Red-Nosed Reindeer (CBS, 8/7c)
Wednesday, November 30
Christmas in Rockefeller Center (NBC, 8/7c)
Thursday, December 1
The Year Without a Santa Claus (Freeform, 6/5c)
National Lampoon's Christmas Vacation (Freeform, 7/6c)
A Charlie Brown Christmas (ABC, 8/7c)
Friday, December 2
Jack Frost (1979) (Freeform, 11am/10c)
The Year Without a Santa Claus (Freeform, 2:30/1:30c)
National Christmas Tree Lighting (Hallmark Channel, 7/6c)
Saturday, December 3
It's a Wonderful Life (NBC, 8/7c)
Sunday, December 4
Nestor, the Long-Eared Christmas Donkey (Freeform, 7:30am/6:30c)
Rudolph & Frosty's Christmas in July (Freeform, 10am/9c)
Monday, December 5
Scrooged (Freeform, 9/8c)
Thursday, December 8
Taraji's White Hot Holidays (Fox, 8/7c)
Tuesday, December 13
National Lampoon's Christmas Vacation (Freeform, 9/8c)
Saturday, December 17
I Want a Dog For Christmas, Charlie Brown! (ABC, 8/7c)
White Christmas (AMC, 10:30/9:30c)
Monday, December 19
National Lampoon's Christmas Vacation (Freeform, 8:55/7:55c)
Thursday, December 22
The Little Drummer Boy (Freeform, 11:30am/10:30c)
A Charlie Brown Christmas (ABC, 8/7c)
Friday, December 23
How the Grinch Stole Christmas (NBC, 8/7c)
Saturday, December 24 (Christmas Eve)
A Christmas Story 24-hour marathon (TBS, 8/7c)
It's a Wonderful Life (NBC, 8/7c)
Sunday, December 25 (Christmas Day)
Eloise at Christmastime (Discovery Family Channel, 9am/8c)
Miracle on 34th Street (HBO, 11am/10c)
The Year Without a Santa Claus (Freeform, 4:35/3:35c)
Monday, December 26
Happy New Year, Charlie Brown (ABC, 8/7c)
Rudolph's Shiny New Year (ABC, 9/8c)
Saturday, December 31 (New Year's Eve)
Dick Clark's New Year's Rockin' Eve with Ryan Seacrest (ABC, 8/7c)
Pitbull's New Year's Revolution (Fox, 11/10c)
New Year's Eve With Carson Daly (NBC, 11:30/10:30c)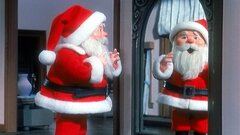 Powered by