'Pictionary,' 'Bachelor in Paradise' & More Unscripted TV for Every Mood This Fall
We've got overheated reality antics, dark criminal doings, and everything in between. Find your perfect TV pick for any mood.
Come aboard, singles — to find a first mate for life! The captain and crew on this Mediterranean voyage are ready to assist. Fall, CBS
Fall is now bikini season: The lust-on-the-beach summer reality soap airs four sizzling hours weekly. Sept. 27, 8/7c, ABC
The luck-of-the-draw board game gets a TV version, with Jerry O'Connell hosting. Fall, syndicated
The inflatable slide won't cut it. With this yachties-in-Norway spin-off, guests expect big adrenaline-rush activities. Fall, Bravo
JHud has a Daytime Emmy, two Grammys, an Oscar, and a Tony. She'll ace daytime talk! Sept. 12, syndicated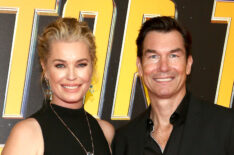 See Also
New CBS dating reality series premieres on October 5.
Answers! Questions! And now…stars (playing for charity)! The host is TBA. Sept. 25, 8/7c, ABC
The journalist leads a look at smartphone crime videos. Sept. 12, syndicated