'Family Guy': Peter Discovers a Perk to Playing Santa (VIDEO)
Forget milk and cookies, Family Guy's Peter may have found the real perk to playing Santa.
In this Sunday's pisode of the animated comedy, Peter is asked to fill in for a mall Santa. However, when he attempts to buy food in his suit, he discovers no one really wants to charge Santa for anything…something Peter is very excited to take advantage of.
Check out an exclusive clip from "How The Griffin Stole Christmas."
Family Guy, Sundays, 9/8c, Fox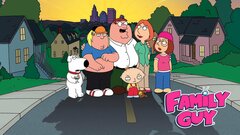 Powered by