'Elementary': Aidan Quinn on Directing an Episode of the CBS Drama
Aidan Quinn's been a movie and TV actor more than three decades—his highly praised TV debut was in the AIDS drama An Early Frost in 1985. But until he took over the slot for this week's Elementary episode, his only directing experience was for a play (written by fellow actor John Tuturro) three decades ago. (Called "A Worker's Life," it became the 1992 movie Mac.)
Here's an exclusive video clip of Quinn's episode,"It Serves You Right to Suffer." It centers on whether ex-con Shinwell Johnson (Nelsan Ellis) is guilty of murdering a rival gang member.
Why make your TV directing debut now?
I've been asking since year one. They saw how successful Lucy [Liu] was in doing it, so they couldn't say no to me anymore!
What excited you about directing?
Directing takes everything you have. When you're directing there is nothing that will not be called up on to use. Lucy gave me some very good advice: Make sure I was well rested and in very good shape before I started preproduction, because it is exhausting. And it is! Particularly for a beginner.
RELATED: Elementary: Nelsan Ellis on His Recurring Role as Shinwell Johnson
So how did your novice outing go?
It was funny. One of our directors heard how well my preproduction was going, how easy, he said, "Just take a moment, because because I guarantee you that means that something will go drastically wrong when you're shooting. Prepare for it."
And did it?
Indeed. First, one of our actors ended up in the hospital and couldn't shoot his scene—on my first day of shooting. Then we had horrible rainstorms on a day with major dialogue scenes in the Bronx. [Laughs] We couldn't reschedule. The scene was with gang leaders and there's no way they would have used umbrellas, but Johnny Lee Miller said, "I think I need a umbrella." I resisted but then it became a downpour and I gave in. And in the end the image of him with the umbrella and the gang leaders standing around him with their baseball caps, turned out to be perfect.
The shot watching Johnny and his big umbrella making his way down a very steep set of stairs in the rain looked really good as well.
Going down those stairs with the great graffiti on the walls had a wonderful depth of vision.
How did your castmates respond to you as a director?
Johnny and Lucy were extremely generous to me. I'm forever thankful. They even allowed me out of my insecurity to place them a few times in positions that they may not have been comfortable in. They gave me great leeway.
How was working with Nelsan Ellis, who has joined the cast this year as a former drug dealer whose life Joan saved when she was a surgeon?
He's fantastic! I just let him go and let him play. He gives you tremendous variety. We are very lucky to have him. So was I.
You're character Lt. Gregson, is mentioned in the episode, but you don't appear. Is that what you wanted for your for your directorial debut?
Rob Doherty, the executive producer wrote me out. I was not expecting that and it was incredibly generous.
Don't' get them to used to that. You don't want them to believe that they can do ok without your character!
[Laughs] It was so nice that they did that. Because it's all encompassing. But I absolutely loved it.
So some familiar characters from the past are returning to the show this season aren't they?
Well, Paige, played by Virgina Madsen, will definitely return. I'm not sure when.[The actress is currently in Designated Survivor]. They had Gregson propose to her after all! And Ophelia Lovibond will return as Kitty Winter for a bit! That most definitely will be an interesting turn.
RELATED: Elementary: No Romance on the Horizon for Sherlock and Joan
Finally, your brother Paul, who died last year, was a director.
Yes, he directed 1998's This Is My Father. It's the favorite film I've been in.
Do you feel like you've done him proud directing your first TV episode?
I have his Mass card sitting by the mirror across from my bed; it's his memorial card and it shows him with a big generous smile. I got to look at that every morning when I left for work and when I came back. I feel like I did. Yes.
Elementary, Sunday, Dec. 11, 10/9c, CBS.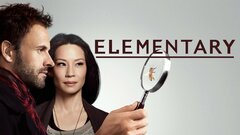 Powered by