'Arrow' Producers on the Important Returns and Oliver's Big Decision
Spoiler alert! This story reveals details of Arrow's 100th episode.
Arrow paid homage to its past with an It's a Wonderful Life-esque "what if?" for Oliver (Stephen Amell) in Wednesday's 100th episode. And though he had happiness in the world where the Queen's Gambit never crashed (and he never became a vigilante), his alternate reality was actually part of a mass hallucination—shared with Thea (Willa Holland), Diggle (David Ramsey), Sara (Caity Lotz) and Ray (Brandon Routh)—thanks to the Dominators, the alien menace at the center of The CW's "DC Week" crossover.
With the milestone hour falling in the middle of the four-show event, the producers were faced with an unusual conundrum. "The challenge was just how much to service the 100th episode-ness and how much to service the crossover," executive producer Marc Guggenheim explained to reporters after a screening of the installment. "I think it's pretty obvious that we chose to go [with the] 100th episode…It was [executive producer] Greg [Berlanti]'s idea to have our five Arrow people basically enter into—we call it the matrix—the Dominator matrix. That allowed us to have our cake and eat it, too."
RELATED: 6 Things to Know About The CW's Epic Arrowverse Crossover
In Oliver's alternate life, he was happily engaged to Laurel (Katie Cassidy), preparing for their wedding and to inherit his father's business. For the writers, there was never any question Cassidy—whose character was killed off in Season 4—should be an important part of this celebration. "She is such an essential figure to the show," executive producer Andrew Kreisberg said. "She was the second lead on the show. Even though the show has evolved, Laurel is at the heart of it. She was Oliver's great love, she's Sara's sister, she's Lance's daughter…even if we do get to 200 episodes, Laurel will always be at the heart of the series and be such an important character."
"And, on top of that, Katie Cassidy will always be so important to us," Kreisberg continued. "We were so happy that she agreed to come back because she is part of the family, both behind the camera and in front of it."
Arrow's "Invasion!" also included a return for Susanna Thompson and Jamey Sheridan as Oliver's deceased parents, Moira and Robert, but the show wasn't able to nail down traditional encores from Colin Donnell (Tommy)—Donnell's series regular gig on NBC's Chicago Med led to a joke in the episode about Tommy practicing medicine in Chicago—or Colton Haynes (Roy).
RELATED: Team Arrow Looks Back on 100 Episodes
The writers were so hopeful that they would somehow be able to figure out a way to get Donnell and Haynes in the episode that an earlier version of the script included both men. "There were moments with Colton and Colin in Arrow that were scripted that we obviously just couldn't do because of Colin and Colton's availabilities," Guggenheim shared. "For example, Roy was going to be Thea's boyfriend—that hadn't changed—and they met when he stole her purse, and that also hadn't changed. I just thought that would have been fun and nice to see."
However, they were able to work the missing characters—and the deceased characters Oliver had to leave behind in his dream world—into a Oliver's final, wistful goodbye (via hologram) to what could have been. "That beat was not in the original break of the episode," Guggenheim shared. "Honestly, I can't even tell you where that idea came from. I was writing that scene where Oliver goes back and it just popped into my head that basically all the actors that we can't get—at the time I didn't know who we could get and who we couldn't—this is a way we can get them."
RELATED: Arrow's 100th Episode Brings Back Old Friends and Joins The CW's 'Invasion' Superhero Crossover
The experience in the dreamworld was an important one for Oliver to have. "When you show the protagonist the path not taken and you basically put them in the situation where they can choose to stay on that path or go back to their life with all of its ugly aspects and challenges and they choose the selfless choice of returning to that ugly past, it makes your character stronger," Guggenheim said. "It forced Oliver to double down on his mission and commit to this life with all of its losses and failures and challenges."
Arrow, Wednesdays, 8/7c, The CW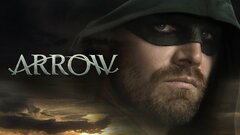 Arrow
where to stream
Powered by