Team 'Arrow' Looks Back on 100 Episodes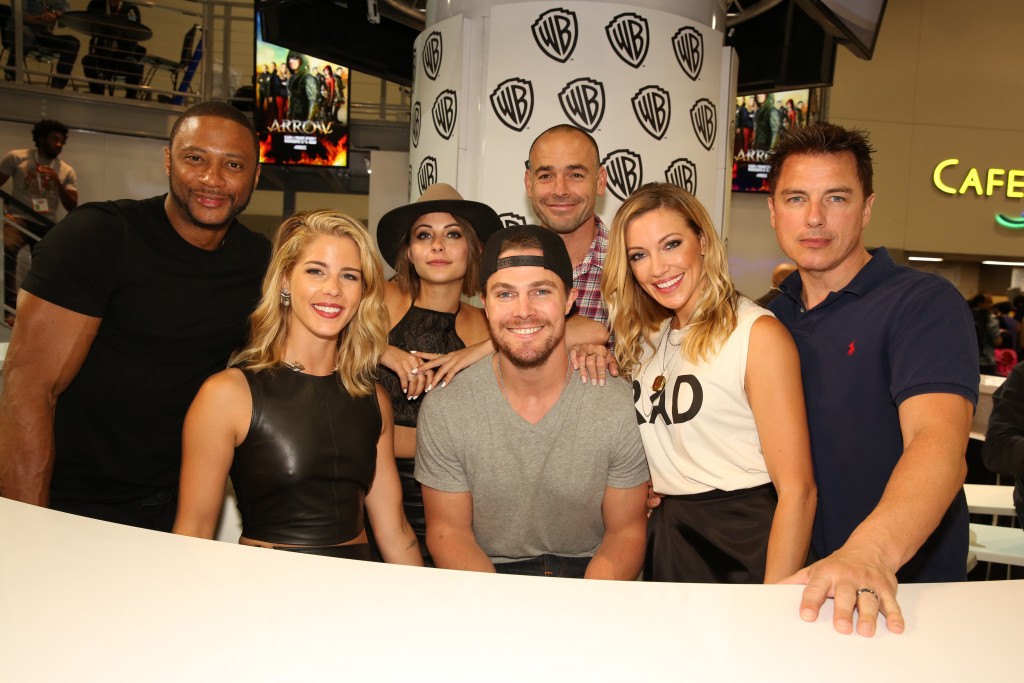 Time flies... kind of like an arrow! To celebrate Wednesday's 100th episode, the cast and crew of Arrow gathered at a Vancouver hotel last month for a night of partying, heartfelt speeches and a lot of memories. Before heading into the fete, a slew of them hit the green carpet (of course!) and shared their own favorite memories of the past five seasons with us.
RELATED: 6 Things to Know About The CW's Epic Arrowverse Crossover
Stephen Amell, "Oliver Queen"
"The pilot will always be special, as will the 100th episode. But we had a day on set out in the woods during episode 118 that sucked—we shot nine straight hours that morning—and then the news came down that we got picked up for a second season. That was awesome."
Marc Guggenheim, executive producer
"Oh, the first-season finale, that was huge. And episode 102—after the pilot, which was amazing, the studio called us in and asked how we were going to do it again on a network budget and schedule! But we had a plan. I love episode 215 ["The Promise"] with the flashback where Oliver takes the Amazo."
Honorable mentions: The second season finale; what Guggenheim calls "the orgy of plot twists [that happened in] the last five episodes of Season 3;" and episode 417 ["Beacon of Hope"]. "That is the bee episode, which I know is controversial! But I like the fact that Arrow could do a straight-up funny episode."
Wendy Mericle, executive producer
"One of my all-time favorite moments is in 220, the 'Seeing Red' episode where [Oliver's mom] Moira [Susanna Thompson] is killed. The flashback where we see [Oliver] deal with the loss of his child after Moira paid the mother to say she miscarried...Stephen was just amazing."
Andrew Kreisberg, executive producer
"One of them would definitely be filming the pilot and being on the beach with [DC Comics chief creative officer] Geoff Johns and the Deathstroke mask. The two of us were taking pictures of ourselves with the mask and going 'Really? Could this really be somethings? Can we really delve into the DC Comics world!""
Honorable mention: Episode 215 again. "That will always be one of my favorite episodes of television I was ever a part of...that was Arrow firing on all cylinders."
RELATED: Arrow's 100th Episode Brings Back Old Friends and Joins The CW's "Invasion" Superhero Crossover
Caity Lotz, "Sara Lance"
"Filming the 100th episode...the director James Bamford put my dad in one of the scenes, so he'll be in the episode! He plays 'Bartender Joe.' That was so much fun doing, that with Katie Cassidy. I also loved going back and forth with the island stuff in Season 2."
Emily Bett Rickards, "Felicity Smoak"
"I love the Felicity finding Oliver bloodied in her Mini Cooper...which we have never seen again! There was also a scene [in Season 2] when Roy [Colton Haynes] was in a coma in the clock tower and none of us could stop laughing."
RELATED: Help Arrow's Stephen Amell F--k Cancer
David Ramsey, "John Diggle"
"The scene when Diggle joins the team and tells Oliver that he has no idea how much he needs him, followed by every moment when John Barrowman and Stephen Amell are together. Oh, there was a moment in Season 1 when Oliver is sitting in a chair in the Queen mansion and I come up and say 'Mr. Queen your ride is ready.' There is a big camera push into his face, and up until this point, Stephen thought I was this big Method actor who never cracked jokes, and instead of delivering my line, I said 'Mr. Queen, I have some of the biggest and hairiest [bleeps] you have ever seen in your life.' And since then, we have been cracking each other up."
Colton Haynes, "Roy Harper"
"One of my favorite things was the Arrow Blood Rush web spin-off Emily and I did."
Katie Cassidy, "Laurel Lance"
"Putting on the [Black Canary] jacket for the first time. And episode 313 ["Canaries"], which has one my favorite moments with Felicity. I had been training so hard to reflect the change in Laurel between Seasons 2 and 3, and I remember being in the moment and our characters finally connected...I hugged her and there was this feeling of relief to be [comforted] by someone who is so pure and who listens. Emily Bett Rickards as an actor is so generous. I was so exhausted and she was there to carry me. And any scene with Paul Blackthorne [Quentin Lance]. I love him so much."
Greg Berlanti, executive producer
"The season premieres, mid-season cliffhangers and finales are always my favorites because you're building toward so much stuff. Personally, the most rewarding thing for me is being entrenched with the other writers and producers, when your part of a community trying to figure it all out. We're our own Team Arrow as it were."
Arrow, Wednesdays, 8/7c, The CW