'Shooter's Omar Epps on Playing the 'Unpredictable' Isaac
So much for a classic game of cat-and-mouse. On USA's new thriller Shooter, Omar Epps plays Isaac Johnson, a rogue Secret Service agent who's embroiled in a vast conspiracy to frame former military sniper Bob Lee Swagger (Ryan Phillippe) for a plot to assassinate the president. But now that Isaac's quarry is on the run—not to mention nursing a serious grudge against him—the hunter is becoming the hunted. Here, Epps gets locked and loaded for the action ahead.
RELATED: Shooter: Ryan Phillippe is Fired Up to Play a Former Marine Sniper in USA's New Thriller
This episode features some of Isaac's backstory—like when he was Bob Lee's commanding officer in the Marines and what made him cross over to the dark side.
It's great to be peeling the layers back, because Isaac is not the quote-unquote "bad guy." He believes he's doing certain things for the greater good, but as he goes further down the rabbit hole, he gets in way too deep.
We'll also learn that—surprise!—Isaac appears to be happily married and he knows Mandarin.
It's funny—that came out of conversations that [executive producer] John Hlavin and I had while we were doing the pilot. I was like, "If Isaac's going to be married, it'd be cool if it weren't a typical thing—maybe his wife is an Asian woman and they speak Mandarin to each other?" He actually threw it all in there, and I was like, "Oh, now I gotta learn this Mandarin!" Isaac is a master at compartmentalizing. Even as he's spiraling, that's in drastic contrast to his home life.
You spent eight seasons on the medical drama House as Dr. Eric Foreman, a guy who saves lives. Now you're destroying them! How's the shift treating you?
People seem to be excited to see it, and it's why I took the role—to have some fun with being unpredictable. A lot of the appeal for me is the mystery of it: How far will someone go to rationalize and justify his actions, even when they're wrong? And that's the state Isaac is in, constantly!
Shooter, airs Tuesdays, 10/9c, USA.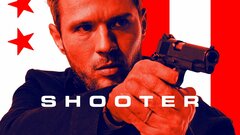 Shooter
where to stream
Powered by